Primary Love and Psychoanalytic Technique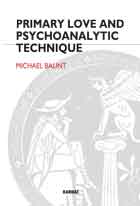 Book Details
Publisher : Routledge
Published : 1985
Cover : Paperback
Pages : 288
Category :
Psychoanalysis
Catalogue No : 2694
ISBN 13 : 9780946439119
ISBN 10 : 0946439117
Also by Michael Balint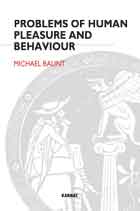 One of the eternal problems of mankind is that of love and hate. Why and how does it happen that we love this one of our fellow-men, feel safe in his affection, expect satisfactions of our needs from him and are attracted to him, while we hate and avoid other? Ever since the publication of Freud's first works one of the main objects of psycho-analytic research has been the study of these powerful currents of the human mind. Dr. Michael Balint contributed several important papers on this subject, and Primary Love and Psychoanalytic Technique is a collection of his material from 1930 to 1952.

The first half of this volume is a collection of all his papers on this topic. The first, "Psycho-Sexual Parallels to the Fundamental Law of Biogenetics", is an attempt to trace the development of the erotic instincts from their earliest biological beginnings in unicellular organisms to their highest manifestations in human beings. Other papers deal with the problems of "Genital Love". "Transference of Emotions", of "Love and Hate" and so on. Dr. Blaint shows that the complexities of human love and hate can be better understood if they are considered as derivatives of a very primitive relation such as exists between mother and child, or between two lovers, and which he describes as "primitive love".

Perhaps the most important field of research where this peculiar form of human relation can be studied is the psycho-analytical situation, the relation between the patient and his analyst. This relation is the central problem of psycho-analytic technique and Dr. Balint's ideas make many old problems appear in a new light, but also give rise to many intriguing new ones. It is well known that theories about the true nature of the infantile mind, about the development of a child's sentiments towards his early love objects, and the theories of psycho-analytic technique are closely inter-related. The second half of this volume contains Dr. Balint's contributions to this topic; they include, among others, papers on "Character Analysis"," Strength of the Ego"," Transference and Counter-transference", and Termination of Analysis".
You may also like