Present-Centered Group Therapy for PTSD: Embracing Today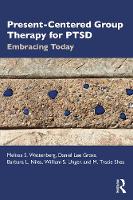 Book Details
Publisher : Routledge
Published : July 2021
Cover : Paperback
Pages : 276
Category :
Group Psychotherapy
Category 2 :
Trauma and Violence
Catalogue No : 95695
ISBN 13 : 9780367338831
ISBN 10 : 9780367338
Present-Centered Group Therapy for PTSD integrates theory, research, and practical perspectives on the manifestations of trauma, to provide an accessible, evidence-informed group treatment that validates survivors' experiences while restoring present-day focus.
An alternative to exposure-based therapies, present-centered group therapy provides practitioners with a highly implementable modality through which survivors of trauma can begin to reclaim and invest in their ongoing lives. Chapters describe the treatment's background, utility, relevant research, implementation, applications, and implications. Special attention is given to the intersection of group treatment and PTSD symptoms, including the advantages and challenges of group treatment for traumatized populations, and the importance of member-driven processes and solutions in trauma recovery.
Compatible with a broad range of theoretical orientations, this book offers clinicians, supervisors, mentors, and students a way to expand their clinical repertoire for effectively and flexibly addressing the impact of psychological trauma.
Reviews and Endorsements
"Present-Centered Group Therapy for PTSD: Embracing Today represents an important new evidence-based approach for treating PTSD. Suitable for therapists of virtually all theoretical orientations, this interpersonal skills-based treatment can be readily applied to all sources of trauma from military combat, sexual assault, domestic violence, and moving vehicle accidents. Its success rates parallel those found in all other effective treatments for PTSD." - Terence M. Keane, PhD, director, Behavioral Science Division, National Center for PTSD, professor and assistant dean for research, Boston University School of Medicine.

"Drawing upon years of research findings, academic rigor and clinical practice, authors Melissa Wattenberg, Dan Gross, Barbara Niles, Bill Unger and M.Tricia Shea bring Present-Centered Group Therapy to the forefront as an evidenced-based and clinically sustaining group treatment for addressing PTSD. Their book Present-Centered Group Therapy for PTSD: Embracing Today, is as comprehensive as it is a clear and compelling. The chapters move from the origins, components and evidence of PCGT to a complete three chapter manual which invites the reader to learn from experts who have spent years helping veterans open a space and place for their present self in a trusted group. Followed by chapters which expand the readers understanding of " present" in PCGT, the efficacy of group in trauma treatment and the effective application of PCGT to other treatment contexts, this book is a unique contribution to trauma survivors and those working with them. We have come to a place and time where research and treatment inform each other with a true understanding of what trauma takes and what treatment works to return. The book, Present-Centered Group Therapy for PTSD: Embracing Today epitomizes that place and time." - Suzanne B. Phillips PsyD, ABPP, is a licensed psychologist, psychoanalyst, diplomate in Group Psychology, Certified Group Therapist, fellow of the American Group Psychotherapy Association.

"Present Centered Group Therapy (PCGT) is an excellent alternative to trauma-focused treatment for PTSD that focuses on the here-and-now and not on traumatic memories. Through a combination of psychoeducation, problem solving, and group support, participants develop a better understanding of their PTSD symptoms and themselves, and learn how to embrace today by directly facing and overcoming the challenges in their lives. With over 20 years of research supporting its efficacy, PCGT is an effective, low stress option for treating PTSD, and helping people affected by trauma move on with their lives." - Kim T. Mueser, PhD, professor, Departments of Occupational Therapy and Psychological and Brain Sciences Center for Psychiatric Rehabilitation, Boston University.
About the Author(s)
Melissa S. Wattenberg, PhD, is a clinical psychologist, co-developed PCGT, and supervises the Psychosocial Rehabilitation & Recovery Center at VA Boston Healthcare. She is assistant professor of psychiatry, Boston University.
Daniel Lee Gross, LICSW, is a clinical social worker at the Veterans Administration Hospital and in private practice in Seattle. He is associate professor at Seattle University's Master of Social Work program.
Barbara L. Niles, PhD, is a psychologist at VA Boston National Center for PTSD and assistant professor of psychiatry, Boston University, investigates impact of psychotherapy and health enhancement for veterans with PTSD.
William S. Unger, PhD, is a psychologist in the Trauma Recovery Services at Providence VA Medical Center and associate clinical professor in the Department of Psychiatry and Human Behavior, Brown University. He served as the chief of the PTSD Program for 16 years.
M. Tracie Shea, PhD, is a psychologist, Trauma Recovery Services, Providence VA, and professor, Department of Psychiatry and Human Behavior, Brown University, developed PCGT, and has played a key role in many clinical trials of PTSD psychosocial treatments.
You may also like