Poetry Therapy: Theory and Practice: Third Edition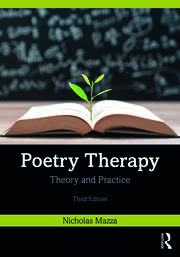 Book Details
Publisher : Routledge
Published : December 2021
Cover : Paperback
Category :
Expressive Arts Therapies
Catalogue No : 96187
ISBN 13 : 9780367901059
ISBN 10 : 9780367901
In this third edition of Poetry Therapy, Dr. Mazza expands on poetry therapy applications and techniques, carefully illustrating the use of poems, expressive writing, and symbolic activities for healing, education, and community service.
Building on the definition and foundation of poetry therapy, chapters discuss using Mazza's poetry therapy model with individuals, families, groups, and communities. Featuring over a hundred new references and practice experiences, the updated edition covers new research findings and methods, especially with respect to expressive writing and brain activity. Additional updates include working with special populations such as minorities, persons with disabilities, veterans, and the LGBTQ+ community. New chapters on spirituality, the COVID-19 pandemic, and personal development through poetry and running are also featured. Each chapter ends with questions for reflection.
This is a truly invaluable resource for any practitioner, educator, or researcher interested in poetry therapy, bibliotherapy, writing, and healing, or the broader area of creative arts and expressive therapies.
Reviews and Endorsements
"This book, the most comprehensive one in the poetry/bibliotherapy field, represents a labor of love and devotion. Infused with its author's far-ranging knowledge base, experiences, and heartfelt beliefs, Poetry Therapy contains a veritable treasure trove of materials pertaining to psychological theories, research, education, and practice with individuals, couples, families, groups, and communities. In this substantially revised third edition, Nicholas Mazza spreads an even wider net, incorporating recent research studies, case materials, and poems while also adding three meaningful chapters on the Covid 19 pandemic, on spirituality, and on inspiring experiences that meld the acts of running and writing for wellbeing. Concluding each chapter in this revised edition is an excellent set of questions designed to invite readers' reflections on the material presented." - Geri Giebel Chavis, PhD, is professor emerita at St. Catherine University in St. Paul, Minnesota, certified poetry therapist and licensed psychologist.

"In Poetry Therapy: Third Edition, Mazza has written an updated and truly comprehensive delineation of the field of poetry therapy, greatly broadening the research review as well as expanding and deepening the clinical material. The new chapters on poetry therapy and the pandemic, spirituality, and running, bring the benefits of poetry therapy into arenas of contemporary importance. The inclusion of the author's personal as well as professional experience greatly enriches the book, which is both deeply instructive and an inspiring testament to the power and beauty of poetry therapy." - Alma M. Rolfs, LICSW, PTR, psychotherapist, past president, NAPT.

"In this third edition of Poetry Therapy, Nick Mazza, one of the world's leading experts on the power of words, explicitly points out the transformation ability of writing and reading in human life. Words matter! They enrich our lives, promote insight, and facilitate change. Mazza illustrates how this happens through explicit examples, some of them extremely moving including his own. Poetry and metaphor especially make us aware of our humanity and what we share with those in the past, as well as those in the present. Deep seated words help move us through setbacks and sorrow as well as transcend and resolve rough times of isolation, pain, and turmoil. They also connect us to feelings of joy, delight, and thankfulness, as we celebrate small and major successes. The new chapters in this latest edition on pandemic, spirituality, and personal development add depth to a text that is already deep and a classic in the field. Mental health workers from various backgrounds and individuals from all walks of life will find this book beneficial in multiple ways regardless of where they are or where they might be headed." - Samuel T. Gladding, PhD, professor of Counseling, Wake Forest University, author of The Creative Arts in Counseling: Sixth Edition

"If you are stumped about how to approach poetry therapy with the profound challenges we have faced in these past few years, look no further. Nicholas Mazza comes to the rescue with his third edition of Poetry Therapy: Theory and Practice. Facing our issues head on, he blends his vast knowledge with his signature personable approach. New material tackles the pandemic fallout, rising depression and suicide rates, racism, and social justice, to name a few. He addresses how adolescents can use technology to send their story out globally, and the significance of writing in community, whether a young child or newly retired looking for purpose. Replacing fear with hope, Mazza follows the healing path of poetry, with his own touch of genius." - Perie J Longo, PhD, licensed Marriage and Family Therapist, registered Poetry Therapist.
You may also like