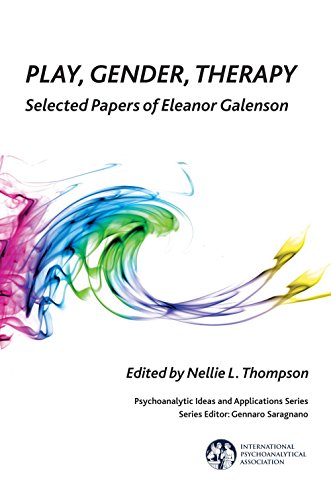 Also by Nellie L. Thompson
Eleanor Galenson had a remarkable career whose singular focus was her life-long interest in the maturational and psychosexual vicissitudes of infancy and early childhood. The selection of her writings in this volume highlight her approach to the study of the early years of life and, in particular, her contributions to understanding the developmental significance of the very young child's discovery of sexual difference, and the ways in which each child expresses this through play, symbolization and language.
Interviews that Galenson gave to Milton Senn and Lucy LaFarge provide a Prologue to the Volume. They introduce the reader to her voice, and portray the milieu within which she matured and worked as a pediatrician, researcher and psychoanalyst. Papers are organized in three parts that illustrate different facets of Galenson's thinking and work: Symbolization, Thought and Language; Infantile Origins of Sexual Identity; and The Tripartite Therapeutic Model. Parts I and II are introduced by Patricia Nachman and Lucy LaFarge, respectively, colleagues and friends of Galenson who are deeply familiar with her work. Several contemporary discussions convey the response of colleagues who engaged these papers form different perspectives. Reviews by Elizabeth Lloyd Mayer and Jerome Oremland of The Infantile Origins of Sexual Identity illustrate its impact on psychoanalytic thinking concerning the emergence of sexual identity in very young children. Part III is devoted to Galenson's advocacy of the tripartite therapeutic model and its utility in clinical work with young children and their parents. The book concludes with an account of Galenson's response, at the end of her career, to Lawrence Kubie's paper, 'The Drive to Become Both Sexes' (1974).
Reviews and Endorsements
'Nellie L. Thompson, in creating this richly layered book, has foregrounded Eleanor Galenson's innovative contributions as psychoanalyst and passionate observer of small children so that her powerful insights are immediately relevant today. Galenson's scholarship is highlighted in her wide integration of theories from neighbouring fields and, using extended clinical illustrations, she deepens our understanding of how the processes of early play, gender awareness, and symbolisation can combine to form a developmental line of psychosexual and object-relations development, thereby extending Freud's views. Theorising from richly textured, vivid observations of infants, Galenson also pioneered a therapeutic approach to help infants suffering from severe disturbance in the parent–infant relationship: the combined intensive dyadic sessions with individual sessions for parents brought results that one would not have believed possible. Nellie Thompson in turn succeeds in an enduring contribution to psychoanalytic and developmental scholarship.'
— Frances Thomson-Salo, Associate Professor, Past President of the Australian Psychoanalytical Society and Honorary Fellow, University of Melbourne Department of Psychiatry

'Eleanor Galenson's research and clinical work demonstrated an early childhood sexual phase at two years, the presence of unresolved parental regression, and the revival of early maternal and infantile self-representations during pregnancy and child-raising. Nellie L. Thompson's lucid introduction and biography appropriately set the historical, institutional, scientific, and social context for Galenson's achievement. Thompson has done all who work with children and the entire mental health profession an invaluable service by bringing together the original classic papers of Eleanor Galenson, a groundbreaking pioneer clinician and childhood researcher.'
— Professor Peter Loewenberg, UCLA; past Dean, New Center for Psychoanalysis, Los Angeles
About the Editor(s)
Nellie L. Thompson, Ph.D., is an historian and member of the New York Psychoanalytic Society and Institute, where she is the Curator of the Archives & Special Collections of the A.A. Brill Library. She has published papers on early women psychoanalysts (Phyllis Greenacre, Helene Deutsch, Marie Bonaparte, Edith Jacobson), the contributions of émigré analysts to American psychoanalysis and the relations of D.W. Winnicott with American analysts. She is a member of the Board of the Sigmund Freud Archives and the editorial Board of American Imago.
You may also like