Patterns of Adoption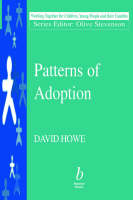 Also by David Howe



This text provides coverage of the major research and theoretical perspectives on adoption, reviewing the work of several disciplines within psychology, sociology and social work. With the change in the pool of children available for adoption, the issues surrounding adoption have increased in complexity. As older and more disturbed children are being placed for adoption, the demands these children make on post-adoption workers and parents is considerable. The book introduces the reader to the range of knowledge and understanding on the development of children once adopted.
Reviews and Endorsements
Contents:
The changing character of adoption; nature and nurture; the success of adoption; patterns of adoption; secure children; anxious-compliant children; testing children; angry-resilient children; avoidant-detached children; casual-indiscriminate children; birth parents; policy and practice.
About the Author(s)
David Howe is Professor of Social Work at the University of East Anglia, Norwich, UK. He was founding editor of the Blackwell Science Journal, Child and Family Social Work (1996-2001) and is author of many books, including: Attachment Theory for Social Work Practice; Attachment Theory, Child Maltreatment and Family Support; Child Abuse and Neglect: Attachment, Development and Intervention; and The Emotionally Intelligent Social Worker.
You may also like