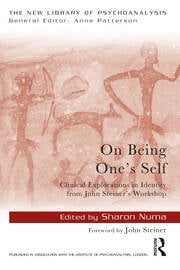 Book Details
Publisher : Routledge
Published : September 2022
Cover : Paperback
Pages : 300
Category :
Psychoanalysis
Catalogue No : 96745
ISBN 13 : 9781032210759
ISBN 10 : 1032210753
On Being One's Self emerges from discussions in John Steiner's Workshop and investigates the meanings of self and identity, including the many ways in which the development of personal identity can be subverted, interrogating what can facilitate the development of a reasonably stable identity.
The variety of problems that can arise in relation to the development of a unique identity is reflected in rich clinical material that vividly illustrates 'identities' felt to be weak, unformed, fluid or brittle, in many cases demonstrating how the sense of self is held together by pathological defences and organisations. The book examines several long-term adult analytic cases, suggesting that a mature personal identity involves not only 'knowing who one is' but also the capacity for empathic identification with the experience of others as separate human beings.
The question of 'having' an identity, or the fear of losing it, is a central concern of individuals, and this volume, which will be of interest to psychoanalysts and psychotherapists alike, considers these issues by looking at the deepest conflicts around self and identity as they emerge and are relived in the transference relationship.
Reviews and Endorsements
'This book of psychoanalytic essays on identity is timely, as this is such a general preoccupation in our society. The analytic sense of what one might call "core identity", based on current and ancestrally derived relationships, is often lost in the demands for the acknowledgement of (a multiplicity of) self-selected "identities". The different chapters arose out of a Workshop run by John Steiner, which meets regularly to discuss clinical practice and theoretical psychoanalytic issues in a way that is unique and greatly admired. It provides an opportunity for thinking and original ideas under the branches of the tree of psychoanalytic knowledge and experience led by John and shared by all the writers. The fruits of that are evident in this book and cover various aspects of the interplay of social and internal relationships that inform self-identification throughout life. It is stimulating, thought-provoking and should be read by all those interested professionally in human relations – as well as by many others keen to know more about themselves and others.' - Ronald Britton FRCPsych, is a distinguished fellow at the British Psychoanalytical Society.

'This book leads us right to the germinal centre of psychoanalytic thinking. It gives a vivid account of John Steiner's postgraduate workshop where experienced colleagues work together for many years to share and discuss their clinical experiences and create new models for their understanding. The contributions by renowned analysts invite the reader to share the unique atmosphere of the seminars and to witness nascent new theory about the basic concept of identity.' - Prof. Dr. Heinz Weiss is head of the department of Psychosomatic Medicine, Robert-Bosch-Krankenhaus, Stuttgart, managing director of the Medical Section, Sigmund-Freud-Institut, Frankfurt a.M., teaches at the University of Tübingen (Germany) and is chair of the Education Section of the International Journal of Psychoanalysis.

'This book is a collection of papers by members of John Steiner's Workshop, a group of experienced psychoanalysts who have been meeting for over 10 years, discussing psychoanalytic theory as well as their own clinical cases. It contains an extensive theoretical preface by Steiner, and is expertly edited and introduced by Sharon Numa, who has also written a scholarly overview of the development of this complex subject in Kleinian theory.The clinical chapters study identity as it can be seen over a landscape of cases and pathologies by clinicians all substantially informed by Klein's and Steiner's contributions, but also open to different influences and, most importantly, each with their particular sensitivity and a mind of their own. Each explores the deepest layers of identity formation, addressing the continuous conflict between development and integration and the obstacles created by primitive defences. I strongly recommend this rich and satisfying collection, a fit homage to Steiner's influence and originality.' - Ignes Sodre is a training and supervising psychoanalyst of the British Psychoanalytic Society.
About the Editor(s)
Sharon Numa is a Fellow of the Institute of Psychoanalysis who has been working as an analyst in private practice for thirty years. Originally working as a Clinical Psychologist in the NHS she subsequently trained at the Tavistock Clinic. She is a training supervisor and therapist for psychotherapy associations and teaches clinical and theory seminars both in London and, in the last few years, in Beijing.
You may also like