Neurodevelopmental Parent-Infant Psychotherapy and Mindfulness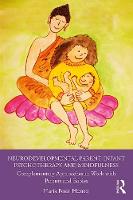 Book Details
Publisher : Routledge
Published : December 2019
Cover : Paperback
Pages : 106
Category :
Child and Adolescent Studies
Catalogue No : 94906
ISBN 13 : 9780367429065
ISBN 10 : 9780367429
Also by Maria Pozzi Monzo

This innovative book explains and introduces the use of mindfulness in therapeutic work with parents and babies, covering issues such as feeding, crying, sleeping and relating, as well as other developmental challenges which affect family life, as practiced in both clinical sessions and in the home.
The book is divided into two parts. Part 1 introduces: (1) what parent-infant psychotherapy is, its origin and evolution; (2) mindfulness, which consists in paying attention in a purposeful way in the present moment and not judgementally; and (3) the development and maturation of the brain and nervous system and how they are affected by the environment in utero and after birth. Part 2 then goes on to explore a range of topics such as parental mental illnesses, immigration, dislocation, loss, guilt, substance misuse, abuse, post-natal depression, congenital malformations and the role of fathers. It describes how these factors impact the parental relationship with, and the healthy development of the infant, drawing from relevant research to demonstrate the effectiveness of parent-infant psychotherapy and mindfulness. The practice of psychoanalytic psychotherapy aided by mindfulness is a useful intervention for distressed families with infants, while a mindful approach to oneself and one's baby can ease parental anxiety and free-loving capacities.
Neurodevelopmental Parent-Infant Psychotherapy and Mindfulness is an essential resource for clinicians and researchers working on parent and infant relations and will also appeal to curious new or future parents.
About the Author(s)
Maria Pozzi trained as a child and adolescent psychotherapist at the Tavistock Clinic, and as an adult psychotherapist at the British Association of Psychotherapists. She has special interests in treating children with autism, Asperger's Syndrome, and mental handicap and in brief work with children under five and their families. Her publications include Psychic Hooks and Bolts, published by Karnac (2003), and I Disagi dei Bambini, published by Bruno Mondadori (2004), as well as papers and book chapters on various topics. She was the winner of Frances Tustin Memorial Prize in 1999.
You may also like