Music at the Edge: The Music Therapy Experiences of a Musician with AIDS: Second Edition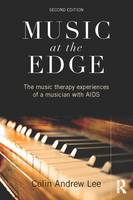 Book Details
Publisher : Routledge
Published : 2016
Cover : Paperback
Pages : 232
Category :
Expressive Arts Therapies
Catalogue No : 38806
ISBN 13 : 9781138856592
ISBN 10 : 1138856592
Music at the Edge invites the reader to experience a complete music therapy journey through the words and music of the client, and the therapist's reflections. Francis, a musician living with AIDS, challenged Colin Andrew Lee, the music therapist, to help clarify his feelings about living and dying. The relationship that developed between them enabled Francis the opportunity to reconsider the meaning of his life and subsequent physical decline, within a musical context.
First published in 1996, Music at the Edge is a unique and compelling music therapy case study. In this new edition of the highly successful book, Colin retains the force of the original text through the lens of contemporary music therapy theory. This edition also includes more detailed narrative responses from the author and his role as a therapist and gay man. Central to the book are the audio examples from the sessions themselves. The improvisations Francis played and his insightful verbal explorations provide an extraordinary glimpse into the therapeutic process when working in palliative and end-of-life care.
This illuminating book offers therapists, musicians, related professionals and those working with, or facing, illness and death a unique glimpse into the transcendent powers of music. It is also relevant to anyone interested in the creative account of a pianist's discovery of life and death through music.
You may also like