Motherhood and Mental Illness: A Relational Treatment Approach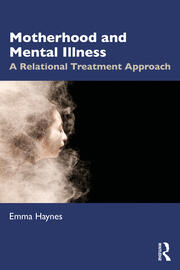 Motherhood and Mental Illness offers an in-depth, comprehensive relational psychotherapeutic framework to provide effective treatment for those experiencing maternal mental illness.
This book addresses a current deficit in mental health resources and treatment and is designed to be an accessible, practical guide into the types and manifests of disorders and the diagnosis, treatment and management of maternal mental illness. It gives a solid understanding of the nature and complexity of maternal mental illness and offers clear guidance on how to provide treatment for successful recovery. Then, using a relational approach, the book offers useful therapeutic interventions grounded in clinical experience and research, which are elucidated with case examples. Covering the most common presentations and the confounders (alcohol, single parenting, drug abuse, self-medication) this is a guide of how to plan treatment, common mistakes that can occur, myths that prevail, and ethical dilemmas.
The book will be suitable for psychotherapists and counsellors of any modality as well as any healthcare professionals who have frontline contact with women.
Reviews and Endorsements
"This book is the culmination of many years of clinical experience of providing psychotherapy to women experiencing perinatal mental distress. Emma's wisdom and compassion flow from the page and as you will see, her writing style is clear, accessible, and 'speaks to' not only the reader, but to the very women she is writing about. Haynes has provided our profession with a handbook for the psychotherapy of maternal mental illness that all psychotherapists- regardless of their theoretical orientation or modality can make use of. I am certain that many readers – myself included – will keep this book to hand and return to it often as a trusted practical guide when working with women who are experiencing perinatal mental health problems." - Mark Widdowson, UKCP Registered Psychotherapist, Senior lecturer in counselling and psychotherapy, University of Salford, UK.
About the Author(s)
Emma Haynes, PhD, is a Teaching and Supervising Transactional Analyst and UKCP-registered psychotherapist who has dedicated her professional life to researching and treating maternal mental illness and developmental trauma. She is a lecturer in psychotherapy at Metanoia Institute, London.
You may also like