Minding the Markets: An Emotional Finance View of Financial Instability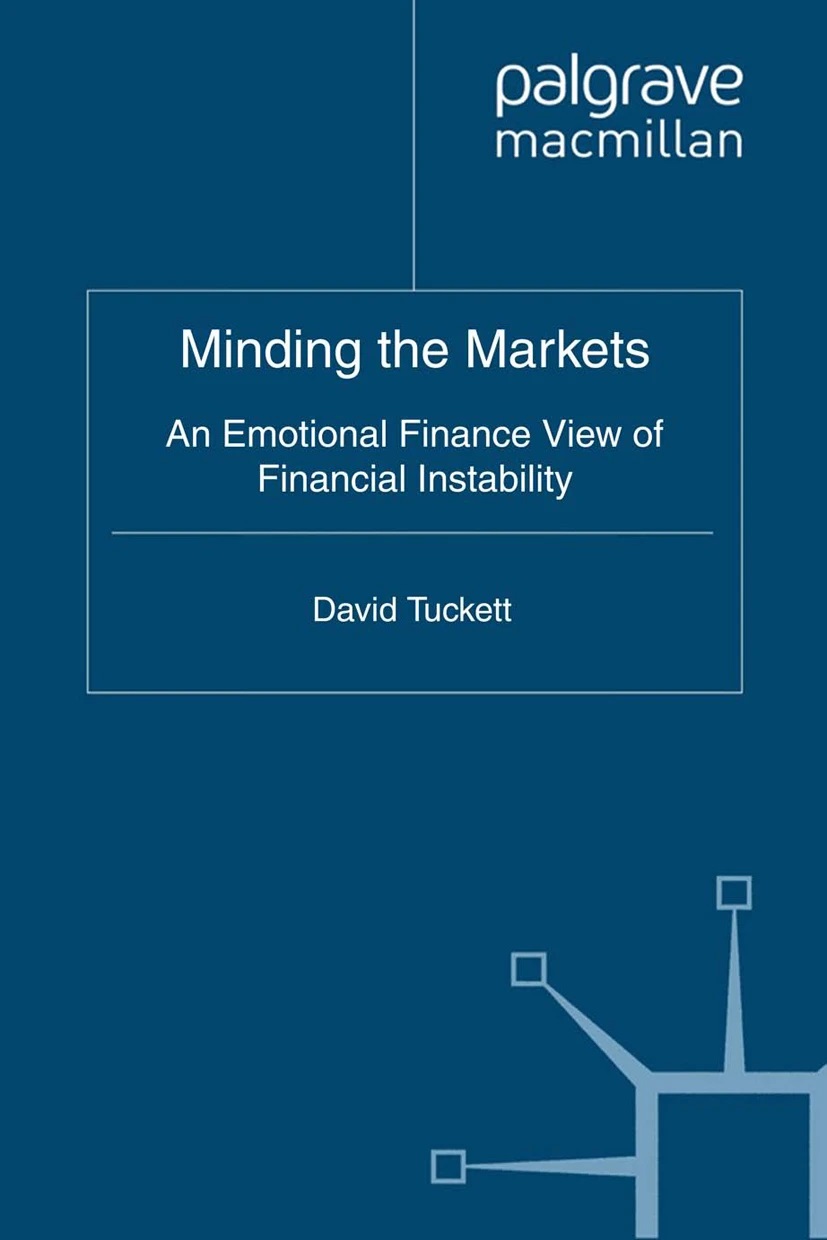 Book Details
Publisher : Palgrave
Published : January 2011
Cover : Hardback
Pages : 288
Category :
Psychoanalysis
Category 2 :
Psychotherapy and Politics
Catalogue No : 32165
ISBN 13 : 9780230299856
ISBN 10 : 0230299857
Also by David Tuckett
The financial crisis of 2008 clarified what economic theories have long ignored. Emotions really matter. David Tuckett argues that economists' explanations for what happened in the Financial Crisis miss its essence. They ignore deep flaws in the organisation of financial markets which, as they have hitherto evolved, been managed, and been understood, have ignored critical components of human psychology. This groundbreaking book offers timely ideas about how emotion can be systematically incorporated into theories about financial markets and how to use understanding to create policy to make them safer. The argument, based on research interviewers with money managers, is that the crisis resulted from failures to understand and organise markets so that they control the human behaviour they unleash. Financial assets have an intrinsically uncertain value and so a particular ability to provoke exciting and then frightening stories and to create what the author terms 'divided' mental states and 'groupfeel'. Supporting such ideas with interdisciplinary evidence and insights he sets out a framework for a new economic theory of financial markets.
Reviews and Endorsements
David Tuckett's new book places core psychoanalytic concepts at the centre of a new way to understand financial markets. It has the distinction of achieving critical acclaim from major figures outside psychoanalysis.

'Minding the Markets is a real contribution... a book the world really needs.'
- George Akerlof, Nobel Laureate and American Economist

'Read this book if you want to understand the behaviour of financial markets.'
- Mervyn King, Governor of the Bank of England

'A treasure trove of path breaking and as yet unexplored ideas. Once they enter mainstream economics and politics, both the academic discipline and policy decision making will undoubtedly change'
- Dennis J. Snower, President, Kiel Institute for the World Economy, Germany

'Minding the Markets is a highly readable book that ...lets asset managers tell their stories and reveals a reality quite different from standard finance theory... He argues that the standard theory itself is part of the problem...and that the catastrophic crisis could also be an immense opportunity for a fundamental reform of policy as well as financial theory.'
- Gerd Gigerenzer, Director, Max Planck Institute for Human Development, Berlin; and former Professor of Psychology, University of Chicago, USA

'A true tour de force... As psychoanalyst, exceptional interviewer and rare interdisciplinary scholar he has brought sensitivity and sensibility to a world of unreason.'
- Neil J.Smelser, University Professor of Sociology Emeritus, University of California, Berkeley, USA; and former President of the American Sociological Association (1997)

'One of the most original and thought-provoking analyses of the current financial crisis and the emotional underpinnings of financial market behaviour. It synthesizes the emotional thread running through past crises, such as the Tulip mania, Southsea Bubbles and dot.com manias. Compulsory reading for anyone interested in root-and-branch reforms in financial regulations.'
- Andrew Sheng, Chief Adviser to the China Banking Regulatory Commission, and former Chairman of the Securities and Futures Commission of Hong Kong

Tuckett argues that most economists' explanations of the financial crisis miss its essence; they ignore critical components of human psychology. He offers a deeper understanding of financial market behaviour and investment processes first by recognizing the role played by emotion and telling stories in all investment activity and then by setting out the core psychoanalytic concepts that can be enlightening.
About the Author(s)
David Tuckett is Fellow of the Institute of Psychoanalysis and Professor at University College London, UK. Recently honoured with a Sigourney Award for Psychoanalysis, the highest prize in the field, Professor Tuckett has brought together his initial training as an Economist with his subsequent work in Sociology and Psychoanalysis to initiate a new line of research; the significance of which has been recognised with recent invitations to speak at the Global Economic Symposium and the Global Risks Network of the World Economic Forum. Previously Principal of the Health Education Studies Unit at Cambridge University and Editor in Chief of the International Journal of Psychoanalysis, he is the author of many papers and several highly successful books.
You may also like