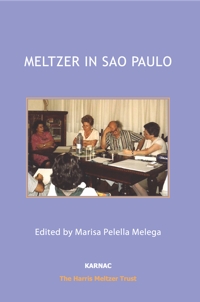 Book Details
Publisher : Harris Meltzer Trust
Published : April 2017
Cover : Paperback
Pages : 190
Category :
Psychoanalysis
Catalogue No : 38831
ISBN 13 : 9781782204657
ISBN 10 : 1782204652
Also by Donald Meltzer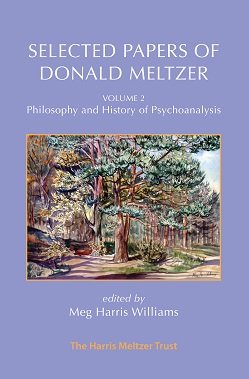 Also by Marisa Pelella Melega
This book is one of a series that record Donald Meltzer's clinical seminars and supervisions, which were conducted in various countries on a regular basis over many years. Despite his interest in the theoretical advances of psychoanalysis made during what he termed The Kleinian Development, Meltzer believed that clinical supervision was the only way to teach psychoanalytic practice. In effect he treated supervision as an art form just as he regarded psychoanalysis as an art form. The library of his supervision work, almost all recorded outside the UK, thus forms a valuable teaching model for future practitioners, as well as demonstrating Meltzer's wealth of insight into both character development and analytic technique.
Edited by Marisa Pelella Melega, with contributions by Alfredo Colucci, Celia Fix Korbivcher, Alicia Beatriz Dorado de Lisondo, Martha Maria de Moraes Ribeiro, and Paulo Cesar Sandler.
Reviews and Endorsements
'We apprehended from these supervisions that the analyst's job is of a primarily descriptive, rather than explanatory, nature, as the function of interpretation used to be considered. We do not explain anything; we simply give our opinions. As for dreams, Meltzer emphasised that the manifest content is not at all manifest: we cannot find out the meaning of any dream until we discover the symbolformation within it. This is comprised not only by its pictorial aspect but also by the language content which accompanies the dream and its description in the session. The authors of this book are unanimous in acknowledging Meltzer as a spontaneous thinker whose thinking embodies learning from experience. His generosity, his humour, and his life wisdom impressed all the people who worked with him in a highly positive way.'
- Marisa Pelella Melega, Training analyst, Brazilian Psychoanalytic Society of São Paulo
About the Author(s)
Donald Meltzer (1923-2004) is widely known as a psychoanalyst and teacher throughout Europe and South America. He is the author of many works on psychoanalytic theory and practice, including The Psychoanalytical Process, Sexual States of Mind, Explorations in Autism, The Kleinian Development, Dream Life, Studies in Extended Metapsychology, and The Claustrum, all published by the Harris Meltzer Trust.
Marisa Pelella Mélega is a psychiatrist and psychoanalyst in private practice, and a Training Analyst and Supervisor at the Brazilian Psychoanalytic Society of São Paulo. She founded the São Paulo Mother-Baby Relationship Study Centre in 1987, receiving accreditation from the Centro Studi Martha Harris, in Rome. She teaches at the Brazilian Institute as a child psychoanalyst, where she chaired the training in child analysis from 1990 to 1996. Her clinical and research interests include applications of the Esther Bick observation model, as in assessment and therapeutic interventions with parents and children. She is the author of Looking and Listening: Work from the São Paulo Mother-Baby Relationship Study Centre; Post-Autism: a Psychoanalytic Narrative, with Donald Meltzer's supervisions; and Eugenio Montale, Poetic Creativity and Psychoanalysis.
You may also like