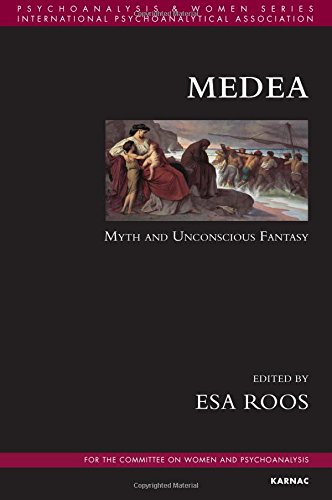 Book Details
Publisher : Routledge
Published : July 2015
Cover : Paperback
Pages : 208
Category :
Psychoanalysis
Catalogue No : 36954
ISBN 13 : 9781782202912
ISBN 10 : 1782202919
This book takes Euripides´ tragedy of Medea as its starting point. Our unconscious fantasies can be embedded in age-old myths, and many modern works about Medea reflect our ever-present interest in such myths. The Danish film director T.H. Dreyer had plans to produce a film about the story of Medea, while his countryman Lars von Trier did in fact make his own version of Medea, based on Dreyer`s previous work on the theme.
In this remarkable new book the `Medea fantasy´ is introduced as an unconscious determinant of psychogenic sterility, a fantasy that may form an unrecognized and dissociated part of the self-representation. The book describes how this can lead women to believe that their lovers (like Jason in the original myth) will deceive and abandon them, and that this anxiety might cause them to react violently towards their children. For such women it is imperative to forgo any creative femininity. The carefully written chapters study the so called ´dark continent` - hidden or unknown areas of womanhood, that are often felt to be difficult to approach, understand, or conceptualise.
The areas covered in the book include pregnancy, abortion, maternal ambivalence, loving and hating the baby, shame, ideals and idealisation of motherhood, as well as such issues as sister fantasy, sisterly and lesbian love, the problems between mother and daughter, and female destructiveness, as reflected in fairy-tales. The book also examines a particular type of female masochism that has a strong influence on the life of couples, often destroying the possibility of genuine mutuality between spouses. This masochistic element can be manifested in the way the woman abandons her own world and possibilities of creativity, in order to immerse herself in her partner´s world. Lastly, it studies what factors might lead to happy and satisfactory relationships, and what factors may lead to failure in establishing such lasting and mutually beneficial relationships in life.
Reviews and Endorsements
'This book is a must for people interested in the psychology of women. Using the Medea myth as his starting point, Esa Roos puts together papers that plumb the depths of female aggression, including the unthinkable act of killing one's own children, and ending with a chapter on love and the difficulties of sustaining that state. The chapters in between explore many aspects of the Medea myth in an incredibly creative way: the sacrifice of a woman for a man's love; unreciprocated love and its profound effect; the fate of someone who is taken from their home and made to live in another country; the effects of infertility and fantasies of having murdered the foetus. On this journey one learns much about women's feelings and their complex attachments, including sisterly love, which can either support creativity or lead to self-destruction and destructive relationships. I congratulate all of the authors on an amazing, intriguing and scholarly book that I truly could not put down.'
— Carolyn S. Ellman, PhD, Training Analyst, Institute for Psychoanalytic Training and Research (IPTAR), New York; co-editor of The Modern Freudians: Contemporary Psychoanalytic Technique

'In this fascinating book on the Medea myth, the contributors succeed in encapsulating essential but problematically felt aspects of womanhood. The main focus is on the vulnerability of love, female creativity, and various aspects of violence. Readers from a broad range of different backgrounds will find the book very rewarding.'
— Henrik Enckell, Training and Supervising Psychoanalyst; Chair of the Consortium for Psychoanalytic Research in Finland

'The ancient myths contain insights into the dynamics of the human mind. Oedipus
and Narcissus have much to teach us about ourselves, and so has Medea. In this book, seven experienced analysts reflect on analytic material from female patients with the Medea myth as a playground. The result is a fascinating journey into the "dark continent" of the female mind. But it is more than that; Medea's love, and her hate, are not only female passions, they are human. And they concern us all.'
– Anders Zachrisson, Associate Professor in Psychology, University of Oslo, and Training and Child Psychoanalyst of the Norwegian Psychoanalytical Society
About the Editor(s)
Esa Roos was born in Helsinki in 1942, where he graduated in psychology in 1971. After training in psychoanalysis (1971-1975) he became Assistant in the Department of Psychology in the University of Helsinki, whilst also working in forensic psychology in both a mental hospital and state prison. He has trained candidates from Finland, Sweden, Estonia, Latvia and Russia, and lectures in Finland, Sweden, Estonia, Spain, France and the USA. He is currently a consultant and supervisor at various institutions in Finland.
You may also like