Marriage and the Culture of Peace: Communication Skills for Families, Therapists, and Society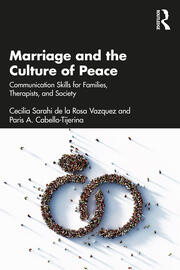 Book Details
Publisher : Routledge
Published : March 2023
Cover : Paperback
Pages : 196
Category :
Family, Couple and Systemic Therapy
Catalogue No : 97093
ISBN 13 : 9781032074511
ISBN 10 : 9781032074
This book provides skills for therapists and families to help improve interpersonal communication, promoting a new system of family coexistence and a refreshed concept of the modern marriage in society.
Written from a constructivist peace perspective, the book's aim is to reduce the high statistics of intimate partner violence that occurs in Mexico, arguing that the culture of peace and how it is born in the family in turn affects society for better or for worse. Based upon interviews from 150 long-term married couples, the chapters address the components that promote peaceful dialogue in marriages, such as assertive language, active listening, tolerance to frustration, and gender perspectives. Including accessible language and several models of peace, the book uniquely examines same-sex marriages, the role of children in marriage conflicts, and prescribed gender assumptions and roles in relationships. It aims to empower family members to move away from old habits and seek a more equitable existence in marriages and society at large.
This interdisciplinary text will be of great interest to family therapists and clinical social workers, as well as to students and researchers in communication and peace studies.
Reviews and Endorsements
"This work will be of obligatory consultation for all those researchers new to the fields of peace and the family, as well as experts in the sector, as its proposals are fresh and innovative, for it projects a new system of family coexistence, as it balances the members of the family, moving away from the old myth of marriage where only one decides" - Francisco Gorjón Gómez, PhD, Professor Autonomous University of Nuevo León.
About the Author(s)
Cecilia Sarahi de la Rosa Vazquez is a full-time professor and researcher at Autonomous University of Coahuila, México. She is a member of the National System of Researchers (SNI) Level I and holds a PhD in Alternative Method of Conflict Resolution. She is a woman, wife, and mother.
Paris A. Cabello-Tijerina is a full-time professor and researcher at Universidad Autónoma de Nuevo León, México. He is a member of the Sistema Nacional de Investigadores (SNI) Level II. He holds a PhD in Social Intervention and Mediation and is a PhD candidate in International Studies in Peace, Conflict, and Development.
You may also like