Malignant Narcissism and Power: A Psychodynamic Exploration of Madness and Leadership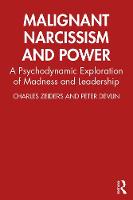 Using psychodynamic theory and riveting case material, this book dissects the figure of the malignant narcissist leader (MNL). Across the world today, individuals and societies are impacted by unprecedented disruptive influences, from globalization and climate change to economic uncertainty and mass migration. The rise of populists and would-be saviors has promised certainty for anxious populations, but how far are such leaders suffering from the MNL pathology?
Through the psychoanalytic lens of Otto Kernberg, the authors explain the etiology of the charismatic MNL's clinical features: charisma, grandiosity, criminality, sadism, and paranoia. The book outlines the limitations and complexity of diagnosis, contextualizing the MNL within the transcendental and millenarian movements, and discusses the patho-dynamics of high-pressure groups and totalitarian regimes, including types of groups, methods of mind control, categories of constituents, the corporate totalitarian state, and the authoritarian demagogue. The book looks at a wide range of leaders including Donald Trump, Bhagwan Shree Rajneesh, Roger Ailes, Keith Raniere, Jan of Leiden, and Credonia Mwerinde.
Distinguishing the disordered personality of the MNL from other personality disorders, and presenting a new model of overlapping descriptors to categorize high-pressure group types and identifying types of followers as well, this book represents essential reading for psychodynamically minded psychologists, psychiatrists, social workers, sociologists, political scientists, and those working in organizational development.
About the Author(s)
Charles Zeiders, PsyD, is the T.S. Eliot Lecturer for Humanities and Spiritual Psychology, Reformed Episcopal Seminary in metropolitan Philadelphia, USA. A clinical and forensic psychologist, Dr. Zeiders is an expert clinician and psychopathologist. His books include The Clinical Christ and Faith, as well as volumes of depth-psychological poetry.
Peter Devlin, LGSW, is a psychotherapist at Capitol Hill Consortium in Washington, DC. He received his BA from the University of Pennsylvania and his MSW from the University of Southern California. His research interests include trauma and the psychology of power.
You may also like