Making Freud More Freudian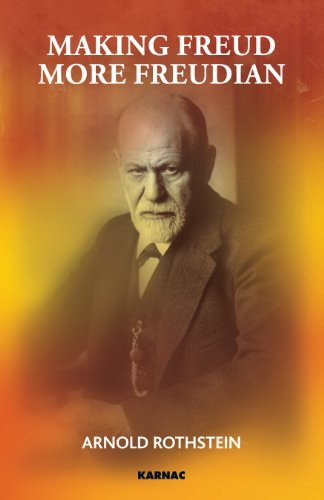 Book Details
Publisher : Routledge
Published : 2010
Cover : Paperback
Pages : 144
Category :
Psychoanalysis
Catalogue No : 28053
ISBN 13 : 9781855757318
ISBN 10 : 1855757311
Also by Arnold Rothstein
This book demonstrates the clinical value of "making Freud more Freudian". The theoretical contributions of Charles Brenner are summarized and emphasized. They are built on an elaboration of Arlow's "fantasy function" and Freud's "compromise formation". The author applies this theoretical perspective in elaboration of the concepts of narcissism, masochism, shame and guilt to the distinction between psychiatric and psychoanalytic diagnoses, as well as to a variety of specific clinical topics. Finally, the author emphasizes that the ubiquity of unconscious conflict demonstrates that all perceptions are subjective and relationships intersubjective.
Reviews and Endorsements
'In Making Freud More Freudian Rothstein undertakes the crucial task that psychoanalysts have tended to avoid, to the detriment of the field. He identifies which of Freud's ideas have enduring value, which are in need of revision, and which must be discarded. The motivational concept of compromise formation is the fundamental platform upon which Rothstein builds. His orientation is consistently clinical. Using the work of Brenner and others, as well as his own contributions concerning narcissism, shame and guilt, sadomasochism, diagnosis, and establishing the treatment, Rothstein
constructs a guide to successful contemporary analytic practice. As the title of his book indicates, Rothstein has done Freud's legacy a great service.'
- Owen Renik, MD, Former Editor-in-Chief, The Psychoanalytic Quarterly

'Arnold Rothstein has constructed a volume that is both simultaneously evolutionary and revolutionary. He expertly blazes new pathways for Freudian thought and shows how this theoretical position is both a powerful explicator of human experience and a useful way of viewing clinical interactions. This volume is extraordinarily important on a number of levels while being amazingly concise and extremely well written. I found myself reading and rereading this amazing and engrossing clinical-theoretical narrative.'
- Steven J. Ellman, PhD, Professor Emeritus City University of New York, author of When Theories Touch: A Historical and Theoretical Integration of Psychoanalytic Thought

'For those who have wondered what, exactly, compromise formation theory is, how it developed from older ego psychology, and how it differs from other current teachings, Rothstein's book is the perfect resource. Clearly and concisely written by a foremost student of Charles Brenner, and generously illustrated by clinical examples, Rothstein's book shows how this optimistic, patient-oriented, specifically psychoanalytic way of working can also be extended to the "tough" areas of analytic practice - narcissism, masochism, dismal diagnoses, and reluctant analysands.'
- Lawrence Friedman, MD, Clinical Professor of Psychiatry, Weill Cornell Medical Center, New York
About the Author(s)
Arnold Rothstein has taught psychoanalytic theory and technique for more than forty-five In addition he has published four books: The Narcissistic Pursuit of Perfection, The Structural Hypothosis: An Educational Perspective, Psychoanalytic Technique and the Creation of Analytic Patients and Making Freud More Freudian; edited seven more; and published numerous scientific papers. He is past Chair of the Program Committee of the American Psychoanalytic Association, past Program Chair for North America of the International Psychoanalytical Association, and past Director of the Institute for Psychoanalytic Education affiliated with the New York University Medical School.
You may also like