Love in a Time of Loneliness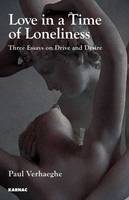 Also by Paul Verhaeghe
Our Customers Average Rating
Read all reviews (1)





Noted Belgian psychoanalyst Paul Verhaeghe shows us what it is about sex that both keeps us moving and inhibits us at the same time. The first essay, "The Impossible Couple", is both a humorous and razor-sharp analysis of the contemporary relationship between man and woman. In the second essay, "Fleeing Fathers", the author demonstrates that today the Freudian Oedipus complex has disappeared, with a resulting shattering of classic gender roles. Post-modern morals are strange compared to previous morality, because they convey an obligation to enjoy. Things become even stranger when one finds that the expected enjoyment fails to come and, instead of that, we are faced with boredom, anxiety, and anger. The reasons for this are discussed in the third essay, "The Drive". Today, sexual abuse is omnipresent, with the male in the role of offender, women and children reduced to his victims. Paul Verhaeghe reconsiders the opposition between Eros and Thanatos as an opposition between two forms of sexual pleasure. The fact that this opposition is ever present in heterosexual love demonstrates that gender differentiation goes beyond temporal cultural forms.
Accessibly written and provocatively argued, Love in a Time of Loneliness is a polemic whose very informality belies its serious intent. In these three fascinating essays, Professor Verhaeghe leaves the ordinary paths of thinking and sets out to discover what drives us in sex and love.
Reviews and Endorsements
'Popular books on love tend to provide the reader with ready-made answers. Paul Verhaeghe asks the right questions and invites you to look for the answers in yourself - the result is astonishing.'
- Miet Soubron, Libelle

'Compared to the usual fast food stuff in the books on sex and love, Verhaeghe's book is haute cuisine.'
- Gilbert Roox, Standaard Magazine
About the Author(s)
Paul Verhaeghe is Professor of Psychoanalysis at the University of Ghent in Belgium and is also in private practice. He is the author of Love in a Time of Loneliness (1999) and Does the Woman Exist? (1999).
Customer Reviews
Our customers have given this title an average rating of 4 out of 5 from 1 review(s), add your own review for this title.
Jan Woodhouse on 24/11/2011 11:20:51





(4 out of 5)
This easy-to-read book, written with wit, brings together the work of Freud and Lacan to consider gender differences and modern relationships. It brings in Greek myths and contemporary media as a means of discussion. It has many thought-provoking comments. Highly recommended reading.
You may also like