Love in a Time of Loneliness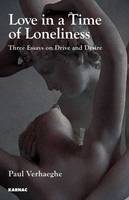 Customer Reviews
Our customers have given this title an average rating of 4 out of 5 from 1 review(s), add your own review for this title.
Jan Woodhouse on 24/11/2011 11:20:51





(4 out of 5)
This easy-to-read book, written with wit, brings together the work of Freud and Lacan to consider gender differences and modern relationships. It brings in Greek myths and contemporary media as a means of discussion. It has many thought-provoking comments. Highly recommended reading.