Losing Eden: Why Our Minds Need the Wild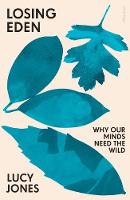 Book Details
Publisher : Allen Lane
Published : February 2020
Cover : Hardback
Pages : 272
Category :
Popular Psychology
Catalogue No : 95036
ISBN 13 : 9780241441534
ISBN 10 : 9780241441
Today many of us live indoor lives, disconnected from the natural world as never before. And yet nature remains deeply ingrained in our language, culture and consciousness. For centuries, we have acted on an intuitive sense that we need communion with the wild to feel well. Now, in the moment of our great migration away from the rest of nature, more and more scientific evidence is emerging to confirm its place at the heart of our psychological wellbeing. So what happens, asks acclaimed journalist Lucy Jones, as we lose our bond with the natural world-might we also be losing part of ourselves?
Delicately observed and rigorously researched, Losing Eden is an enthralling journey through this new research, exploring how and why connecting with the living world can so drastically affect our health. Travelling from forest schools in East London to the Svalbard Global Seed Vault via primeval woodlands, Californian laboratories and ecotherapists' couches, Jones takes us to the cutting edge of human biology, neuroscience and psychology, and discovers new ways of understanding our increasingly dysfunctional relationship with the earth.
Urgent and uplifting, Losing Eden is a rallying cry for a wilder way of life - for finding asylum in the soil and joy in the trees - which might just help us to save the living planet, as well as ourselves.
About the Author(s)
Lucy Jones is a medical herbalist with a busy high street practice in Somerset, UK. She grows or gathers the majority of the herbs that she works with and is a passionate proponent of self-sufficient herbalism. Prior to qualifying in western herbalism, she studied Tibetan Medicine with the great master Khenpo Troru Tsenam. This experience deeply influences her approach to therapeutic practice as well as the way that she grows and processes her herbs. She originally trained in Agriculture and Forestry and has two degrees from the University of Oxford.
You may also like