Living with the Reality of Dissociative Identity Disorder: Campaigning Voices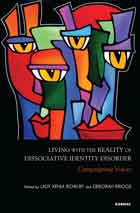 This book is the product of a Campaign Day organised by the Paracelsus Trust to raise awareness of Dissociative Identity Disorder (DID). The Campaign Day brought people together, enabling individuals to tell their story, and allowed all of those involved to recognise the progress that has been made in recognition of the condition, which has long been either ignored or misunderstood, and the possibilities for the future. As this was a profoundly moving experience, it was decided to put the presentations into a book, which recounts some painful personal experiences and some ideas for ways forward, always recognising the pain of the condition and the abuse that precedes it.
The Paracelsus Trust is a Charity which exists to support people with DID who are in receipt of services from the Clinic for Dissociative Studies. The Trust has undertaken the work to bring this book to publication, and most of the authors are active in this or other supportive organisations. Bringing people with experience together and then writing a book which will be available for many has demonstrated a coherent approach that can only be helpful, as the disintegration experienced by sufferers hinders collective working and it is hoped that this publication will encourage others to speak out, as well as facilitate more understanding in the wider community.
Reviews and Endorsements
'There is an increasing body of evidence suggesting that dissociative identity disorder (DID) is one of the legacies of extensive and repeated child sexual abuse. In this book, we can see a number of vivid snapshots of its victims struggling to cope with their terrible abusive histories and the fractured personalities that result. These are very brave people and their stories tell of events in middle-class England. We must not look away.'
—Professor John Morton, OBE, FRS, Cognitive Psychologist at the Institute of Cognitive Neuroscience, University College, London

'This is a truly remarkable book on a number of accounts. First, it fills a gap in the literature that combines personal experience with clinical insights and unique first-hand experience of living with DID. Second, it is the product of leading, eminent, and pioneering contributors in the field of dissociation who have all achieved widespread recognition as conference speakers, trainers, writers, or artists. I know of no other book that brings together such remarkable insights, understanding, and personal experience in such an accessible way. It is essential reading for counsellors, therapists, psychiatrists, psychologists, carers, relatives, and indeed anyone seeking to understand more about DID. It may also be a great encouragement to other survivors of early life trauma who are travelling the lonely journey of recovery. The significance of this book is that it reveals more than any single piece of research could do about the challenges, and at times gifts, of living with DID. This is probably the most moving and informative book on the subject that I have read for a very long time, and should be on the book list of all clinical training courses.'
—Mike Fisher, Chair of the Trauma and Abuse Group (TAG)
About the Editor(s)
Lady Xenia Bowlby is the daughter-in-law of John Bowlby, whose research has given so much to our understanding of complex personalities. She supports her husband Richard in the continuation of the work and has been active in the development of the Paracelsus Trust.
Deborah Briggs is Chairperson of the Paracelsus Trust. She has worked as a therapist for a decade and specialises in trauma and sexual abuse. Her training is integrative, including relational, sensorimotor and psychodynamic psychotherapy.
You may also like