Listening to Less-Heard Voices in Counselling: Developing Counsellors' Awareness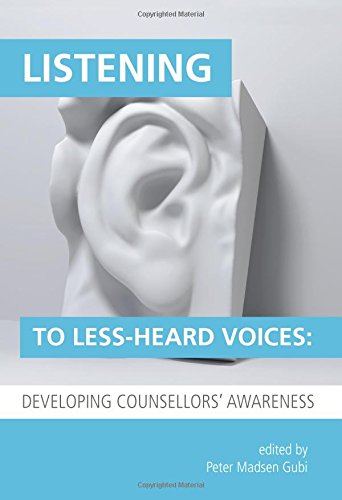 Book Details
Publisher : University of Chester Press
Published : 2015
Cover : Paperback
Pages : 318
Category :
Counselling
Catalogue No : 39132
ISBN 13 : 9781908258236
ISBN 10 : 1908258233
Also by Peter Madsen Gubi
This book is written in order to enhance practice and understanding in Counselling and allied helping professions. The contributors are all qualified Counsellors and the work is grounded in research. They explore: the phenomenology of the tattooed client; the impact of Person-Centred Counselling training on friendship; the therapeutic importance of pets; non-physical abuse; mothers' experiences of the impact of a traumatic birth; the experience of Counsellors who work with complicated grief; and the role of mother-tongue in counselling Welsh speakers.
These individual chapters provide valuable insights into working with client groups and needs which are rarely explored in the wider literature. As a result, professionals practising in these specific fields will find this book particularly relevant. Equally, for the general reader in the Counselling and allied helping fields, the specific areas covered will spark curiosity and provide food for thought to apply to their own work. This book is an exemplar of good practice in the publication of excellent Counselling students' research, which draws on the Interpretative Phenomenological Analysis method of research, in which the participants' voices are clearly heard.
About the Editor(s)
Peter Madsen Gubi, PhD, is Professor of Counselling and Spiritual Accompaniment at the University of Chester, UK. He is Programme Leader for the Doctor of Professional Studies in Counselling and Psychotherapy Studies and for graduate research in Counselling and Psychotherapy. He is the author of Prayer in Counselling and Psychotherapy: Exploring a Hidden Meaningful Dimension, Spiritual Accompaniment and Counselling: Journeying with Psyche and Soul, and Listening to Less-heard Voices. He is also Minister of Dukinfield Moravian Church, Manchester, UK.
You may also like