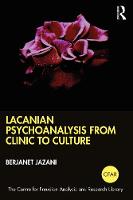 Book Details
Publisher : Routledge
Published : November 2020
Cover : Paperback
Pages : 116
Category :
Lacanian Psychoanalysis
Catalogue No : 95367
ISBN 13 : 9780367330927
ISBN 10 : 9780367330
Also by Berjanet Jazani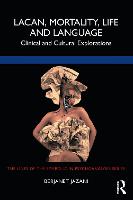 This accessible and insightful book merges Lacanian theory, psychoanalytic case studies, and the author's personal experiences to illuminate the relevance of Lacanian psychoanalysis in mapping contemporary subjectivity.
Using examples from cinema, artificial intelligence, and clinical and cultural references, the book covers major topics within the field, including dreams, the mirror phase, psychosis, hysteria, the position of the analyst, the drive, supervision and the symptom. Each is set within the context of our technologically oriented, market-based society and complemented with empirical vignettes. The book's final section examines contemporary society and radicalization.
Lacanian Psychoanalysis from Clinic to Culture is important reading for students and academics in Lacanian psychoanalysis, as well as professionals concerned with complex social problems.
Reviews and Endorsements
"Jazani's analysis of psychoanalytic cases will be of great help to anyone who wants to understand the premises of the neo-liberal ideology of success and the symptoms people form in the context of its pressures for perfection. Jazani's book describes a trajectory from her life in the post-revolutionary Iran to her life in the world dominated by artificial intelligence, genetic tests and mobile devices. In addition, she offers an insight into how this new technology is reshaping today's subjectivity and how psychoanalysis can be of help to people whose symptoms are also altered in our technology driven world." - Renata Salecl, philosopher, sociologist and legal theorist, senior researcher at the Institute of Criminology, Faculty of Law at the University of Ljubljana, and holds a professorship at Birkbeck College.
About the Author(s)
Berjanet Jazani Berjanet is a medical doctor and practising psychoanalyst in London, UK. She is the president of the College of Psychoanalysts, a member of the Centre for Freudian Analysis and Research and author of Lacanian Psychoanalysis from Clinic to Culture.
You may also like