Lacanian Coordinates: From the Logic of the Signifier to the Paradoxes of Guilt and Desire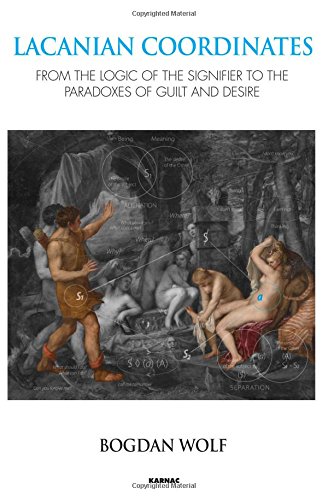 Book Details
Publisher : Routledge
Published : September 2015
Cover : Paperback
Pages : 208
Category :
Lacanian Psychoanalysis
Catalogue No : 36924
ISBN 13 : 9781782202806
ISBN 10 : 1782202803
Also by Bogdan Wolf
Psychoanalysis is an experience of truths and lies in language. It is also a discourse, and a praxis. Lacanian Coordinates takes the reader from the beginning of Lacan's teaching, from the logic of the signifier and the Lacanian subject, to the drive and object a, qua object a, the paradoxes of guilt, and finally to the desire of the Other, love, and femininity - the themes which are explored and developed in the forthcoming second volume of Lacanian Coordinates
This book explores the points of Lacanian orientation that lead us to the particularity of the subject, and considers whether we find them not solely in the discourse of the universal, to which religion, science and philosophy testify, but also in the analytic experience itself. Psychoanalysis creates conditions for an encounter with an analyst and with words forgotten, neglected, underestimated, yet also bursting with meaning and surprises. Each chapter contributes to this subjective realisation, taking as reference the clinic, the voice of an analysand, and everyday discourse. An ethics that emerges from this experience is not of the superego but of a speaking being faced with the non-existence of an all-knowing and all-powerful Other.
Reviews and Endorsements
'English-speaking readers of contemporary psychoanalytic literature will know Dr Bogdan Wolf as the founding editor of the long-standing Psychoanalytical Notebooks, which he directed single-handedly for nearly a decade. This new volume is an ambitious collection of texts that had their first outing in the said journal, and which present, in a tone by turns forthright and serpentine, a personal and unprecedented reading of some of the key texts of twentieth-century psychoanalysis.'
- Adrian R. Price, psychoanalyst, translator of Anxiety: The Seminar of Jacques Lacan, Book X

'In this book, Bogdan Wolf explores what is at stake in the meaning of subjectivity, probing some of the pivotal existential questions that bring people to analysis: What do I want? Why is life so difficult? Why does love never last long enough? Making comprehensive use of his own extensive experience as both analyst and analysand, he pays particular attention to the difficulties engendered by the paradoxical satisfaction that so often engulfs the subject. Deploying a singularly provocative style, he offers a unique perspective on the discourses of academia, science and religion, while aiming, at the same time, at circumscribing the knowledge produced in the analytic experience. Also essential to his argument is an insistence on knotting together the numerous issues that students and experienced analysts alike should reflect on in light of the complexities confronting the contemporary clinic.'
- Gabriela van den Hoven, psychologist and psychoanalyst; Chair of the London Society of the New Lacanian School
About the Author(s)
Bogdan Wolf received his PhD from Warwick University in the 1990s. He worked in the European School of Psychoanalysis before becoming editor of the Psychoanalytical Notebooks, a publication of the London Society in the Lacanian Orientation. He has authored several articles and book contributions in English, French, Spanish and Polish, co-edited the widely praised collection Later Lacan, and translated numerous texts. He has lived and worked in private practice in London for over twenty years.
You may also like