Keeping Couples in Treatment: Working from Surface to Depth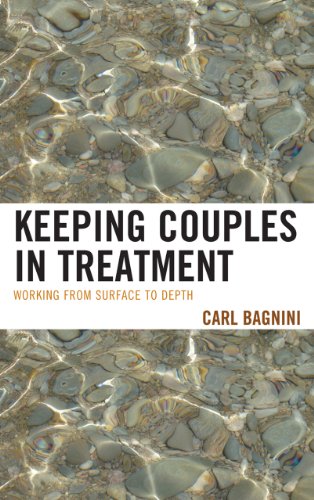 Book Details
Publisher : Jason Aronson
Published : 2012
Cover : Hardback
Pages : 138
Category :
Family, Couple and Systemic Therapy
Catalogue No : 33918
ISBN 13 : 9780765709035
ISBN 10 : 0765709031
Also by Carl Bagnini
This book is written for the beginning or seasoned therapist who wants to learn a powerful and effective in-depth approach for keeping couples in treatment. The book focuses on the problems that present themselves when the therapist lacking in-depth knowledge of couple treatment loses empathy and curiosity, resulting in a feeling that couple therapy presents an overwhelming task. Therapists who embark on couple work need practice theory for making meaningful contact with the couple's internal conflicts. In the surface to depth approach the treatment field consists of two spouses, their unconscious relationship, and the therapist. Therapists may micro-manage couple emotions because they cannot conceive ways to deal with couple anxieties because their own anxieties run so high.
The book illustrates the therapist's use of self and the theory behind this powerful treatment approach that can help therapists more effectively manage treatment anxieties. For the beginning couple therapist, this book offers an object relations rationale for treatment and an expansion of the technical shifts from individual therapy to couples. The book guides the inexperienced therapist through the couple's pain, rage, and attacks on the frame when in deeply distressing situations. For the experienced therapist the book emphasizes the couple as an unconscious and conscious system best treated using an in-depth understanding of intrapsychic-interpsychic communications. Couple situations demonstrate a treatment that experienced therapists will find liberating.
Throughout the book the therapist's countertransference and use of self as a therapeutic instrument is examined. Divorce, infidelity, dreams, and disorders of the self are detailed in the case materials. The cases represent a variety of problems difficult to treat at any level of therapist experience. The book studies the therapist's personal feelings and countertransference throughout treatment that enables the reader to hone his or her capacity to deal with difficult couples.
You may also like