Juliet Mitchell and the Lateral Axis: Twenty-First Century Psychoanalysis and Feminism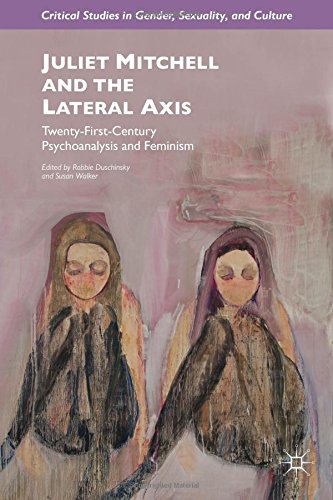 Book Details
Publisher : Palgrave Macmillan
Published : 2015
Cover : Hardback
Pages : 291
Category :
Culture and Psychoanalysis
Catalogue No : 38660
ISBN 13 : 9781137381170
ISBN 10 : 1137381175
Also by Juliet Mitchell
Also by Robbie Duschinsky
Description: This volume fills the gap in books dedicated to the ideas of ground-breaking theorist Juliet Mitchell. Essays from internationally renowned scholars address themes that cross-cut her oeuvre: equality, violence, collective movements, subjectivity, sexuality and power. Mitchell herself contributes a chapter and an afterward.
Review: "This book provides a very good overview of Juliet Mitchell's work and explores it in depth. In a remarkably clear and precise way, the authors introduce crucial concepts she developed, contextualise them and explore their theoretical and clinical implications. This book is a marvellous tool which will help the complete beginner but also the experienced academic to understand how much Juliet Mitchell's work opens up a new horizon in psychoanalytic theory." - Lionel Bailly, Senior Lecturer in Psychoanalysis, University College London, UK
Contents: 1. The Aetiology of Hysteria in Mitchell's Madmen and Medusas; Susan Walker 2. Siblings, Secrets and Promises - Aspects of infantile Sexuality; Daru Huppert 3. Debating Sexual Difference, Politics and the Unconscious; Juliet Mitchell, Judith Butler, and Jacqueline Rose 4. Dialectic and Dystopia; Robbie Duschinsky 5. Marked by Freud, Mitchell and the Freudian Project; Daru Huppert 6. Hysteria Between Big Brother and Patriarchy; Paul Verhaeghe and Eline Trenson 7. Reframing Obsessional Neurosis: The Rat Man's Siblings; Robbie Duschinsky and Rachel Leigh 8. Minimal Difference: On Siblings, Sex and Violence; Mignon Nixon 9. Sisters at the Gate; Gillian Harkins 10. Crimes of Identity; Gayatri Chakravorty Spivak 11. Afterward-An interview with Juliet Mitchell; Juliet Mitchell and Preti Taneja.
About the Editor(s)
Juliet Mitchell FBA is a psychoanalyst, socialist feminist, emeritus professor and author.
You may also like