Intuition in Therapeutic Practice: A Mind-Centered Depth Approach for Healing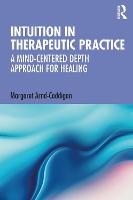 Book Details
Publisher : Routledge
Published : September 2021
Cover : Paperback
Pages : 150
Category :
Individual Psychotherapy
Catalogue No : 95870
ISBN 13 : 9780367548407
ISBN 10 : 9780367548
Margaret Arnd-Caddigan helps clinicians to expand their understanding of intuition by introducing mind-centered dynamic therapy (MCDT), providing them with the tools to incorporate this approach into their practice.
Written accessibly for clinicians new to MCDT, the book presents this powerful method to help clients alter their thinking and overcome suffering. Divided into two parts, the book begins by clearly exploring the origins of intuition in philosophical thought, covering ideas such as panpsychism, cosmopsychism, and depth psychology views of mind, before examining how problems arise in psychotherapy from a Relational Perspective and how MCDT can help. Chapters then demonstrate how MCDT can be used in practice by exploring specific issues and treatment implications, clearly explaining how clinicians can define and develop general intuition, what the difference between clinical intuition and intuitive inquiry is, and how clinicians can help clients develop their own intuition during sessions. Filled with practical examples, key points, and creative activities such as journaling and body work throughout, this book helps both clinicians and clients attune to and trust their own intuition in the process of healing.
Rooted in empirical research and clinical practice, this book is essential reading for counselors, psychotherapists, and clinical social workers looking to incorporate intuition in their therapeutic approach.
Reviews and Endorsements
"In this eclectic and wide-ranging text, Margaret Arnd-Caddigan draws from the fields of psychoanalysis, analytical psychology, and philosophy of mind to offer a significant corrective to commonplace psychotherapeutic assumptions. Articulating what she terms a 'mind-centered' approach to practice, Arnd-Caddigan writes passionately of the importance that clinicians be willing to question the implicit metaphysics of Western medical discourse. Opposing biological reductionism with an emphasis on creativity and intuition, this book should be welcomed by psychotherapists looking to broaden their theoretical and clinical horizons." - Robin S. Brown,, PhD, Columbia University, USA.

"It was a pleasure to read Intuition in Therapeutic Practice: A Mind-Centered Depth Approach for Healing. Dr. Arnd-Caddigan gracefully honors and integrates classic psychoanalytic perspectives with the sometimes elusive element of intuition. Her book provides solid theory with guidance for developing and utilizing intuition in psychotherapy, making for a stronger, more diverse approach to working with clients. Both the novice and experienced intuitive will find this book a useful addition to their clinical repertoire." - John Burton, EdD, LPC, Clinical Hypnotherapist, author of The Sacred Sequence: Remembering the One Truth.
About the Author(s)
Margaret Arnd-Caddigan, PhD, is an associate professor of social work and a licensed clinical social worker.
You may also like