Intrusiveness and Intimacy in the Couple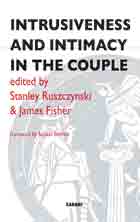 Book Details
Publisher : Routledge
Published : 1995
Cover : Paperback
Pages : 180
Category :
Family, Couple and Systemic Therapy
Catalogue No : 4051
ISBN 13 : 9781855751149
ISBN 10 : 1855751143
Also by James Fisher
Also by Stanley Ruszczynski

A collection of papers, largely based on clinical work, which covers a range of concepts and mechanisms which are central to any psychoanalytic psychotherapy with children, adolescents, or adults. It addresses an issue which lies at the heart of human relationships, that of intimacy.
Reviews and Endorsements
'This book addresses an issue which lies at the heart of the predicament of human relationship, and therefore of the therapeutic endeavor - the capacity for intimacy. Though largely based in clinical work with couples this marvelous collection of papers, together with the concluding discussion, extends and depends our understanding of a range of concepts and mechanisms which are central to any psychoanalytic psychotherapy, whether with children, adolescents or adults. In so doing, the book manages to be both sophisticated theoretically and, at the same time, very accessible.

'Although it draws on several theoretical perspectives (leading to some interestingly different views in the respective papers) the book is finally securely positioned at the leading edge of Kleinian and post-Kleinian thought. It gathers and extends some of the most important and original thinking both about the nature of internal/external relationships and about the basic issue of the determinants of the individual's sense of identify - the different kinds of identification which may underlie or underpin the development of the personality and thus of the varying capacities for intimacy.'
- Margot Waddell

'The editors of this work have eminently fulfilled their promise to examine the "central dilemma" of the couple's relatedness. The desire to be close may be an expression of an authentic concern for a separate and distinctly valued other. In contrast, the wish for a intimacy may be an effort to intrusively control the other, who is experienced essentially as an extension of the self. What forces determine the mode of intimacy, and what is the therapist's role in transforming intrusive control into mature relatedness? In five rich essays and a sagacious commentary by Donald Meltzer, the reader will come to understand the process by which the internal object world of the individual is enacted in the interpersonal relationship of the couple.'
- John Zinner

'The Tavistock Marital Studies Institute pioneered the psychoanalytically informed understanding of marital interaction in the late 1940s and continues to have immense influence on those who offer help to marriages in difficulty. In this book marital psychotherapists working in the TMSI address current psychoanalytic concepts - Kleinian, Winnicottian and Meltzerian - which illuminate the primitive "gridlocks" imprisoning their clients and often themselves, and try to delineate what constitutes more creative coupling.'
- Jane Temperley
About the Editor(s)
Stanley Ruszczynski is a senior Psychoanalytic Psychotherapist with the British Association of Psychotherapists and a Direct Member of the International Psychoanalytic Association. He is the Clinical Director of the Portman Clinic and a Consultant Adult Psychotherapist.
You may also like