International Dictionary of Psychotherapy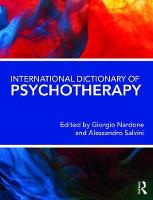 Book Details
Publisher : Routledge
Published : April 2019
Cover : Paperback
Pages : 610
Category :
Individual Psychotherapy
Catalogue No : 94231
ISBN 13 : 9780367110932
ISBN 10 : 9780367110
Also by Giorgio Nardone
Also by Alessandro Salvini
The International Dictionary of Psychotherapy is a systematized compendium of the numerous psychotherapies that have evolved over the past 30 years. With contributions from over 350 experts in the field, it highlights the diverse schools of psychotherapy, tracing their histories and traditions, while underlining their specific strengths in dealing with human behaviours, feelings and perceptions in the contemporary world. The book traces eight principle paradigms: psychodynamic, behavioural, existential-humanistic, body-expression, systemic-relational, cognitive, interactional-strategic and eclectic. It presents to the expert and non-expert reader an array of models that grew from a specific paradigm, sharing the same fundamental epistemology and therapeutic strategies. This is accomplished through a reader-friendly approach that presents clear definitions of the key constructs of each paradigm, and transversal concepts that are common to the diverse practices of psychotherapy. The International Dictionary of Psychotherapy provides a clear picture of the numerous types of psychotherapeutic treatments and their applications, while offering a close examination of the efficacy and evaluative methods developed as a result of numerous debates and research carried out within the psychotherapeutic community. It represents an essential resource for psychotherapeutic and psychoanalytic practitioners and students, regardless of background or creed.
About the Editor(s)
Giorgio Nardone is director of Centro di Terapia Strategica (Strategic Therapy Center) and of the Post Graduate School of Brief Strategic Therapy Center in Arezzo, Italy. He is also professor of Brief Psychotherapy at the Post Graduate School of Clinical Psychology, University of Siena, Italy. He has published numerous articles and several books translated into many foreign languages. He is renowed as one of the most creative therapists and authors in the field of Brief Strategic Therapy and Strategic Problem Solving. his systematic and effective models for treating phobic, obsessive disorders and eating disorders are followed by many psychotherapists all around the world.
More titles by Giorgio Nardone
Alessandro Salvini is a clinical psychologist. He teaches psycho-pathology and clinical psychology at the University of Padova. He has focused his research on the exploration of dissociative personality processes, clinical psychology, new models of psychotherapy in a transcultural perspective, gender disturbances, diversity and deviances, states of consciousness, and inner voices experiences. He is currently involved in the Brief Strategic Therapy Training School (Brief Strategic Therapy Training MRI Model) and is an active member of the Centre for Strategic Therapy, Arezzo.
You may also like