Internal Family Systems Informed EMDR Therapy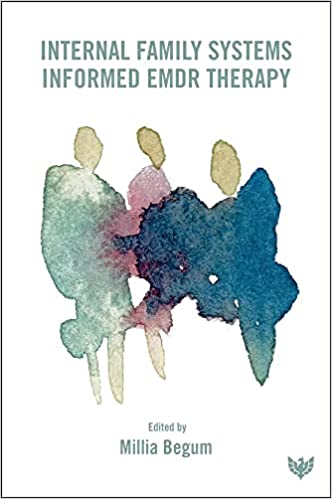 Book Details
Publisher : Phoenix Publishing House
Published : January 2024
Cover : Paperback
Pages : 200
Category :
Forthcoming
Category 2 :
Individual Psychotherapy
Catalogue No : 97106
ISBN 13 : 9781800131712
ISBN 10 : 9781800131
Paperback
£25.99
This item is not yet published. You may pre-order a copy and we will send it out when it becomes available.
Free UK Delivery over £25
This title has been temporarily removed from the website. Please contact Karnac Books for more details
With contributions from Zandra Bramford, Bruce Hersey, and Annabel McGoldrick.
This informative book examines a form of therapy for working with clients with complex trauma and dissociation which integrates two therapeutic modalities: Internal Family Systems (IFS) and eye movement desensitisation reprocessing (EMDR). It begins with a lucid overview of IFS and its steps and key principles. It then addresses how IFS can be integrated in all phases of the standard EMDR protocol in order to deliver EMDR within a safe systemic framework, while offering neuropsychological rationale for integrating the two therapies.
An array of leading experts explore from an IFS perspective the various nuances of complex trauma, including dissociation, which may influence the process of EMDR and pose obstacles to the client and therapist. Through case transcripts and analysis of the therapist's role when working with complex trauma clients, the book demonstrates how a basic understanding of IFS can be used by EMDR clinicians to repair attachment ruptures, increase reorganization of internal states, and access the 'Self' as a powerhouse of healing. It is an absolute must-read for EMDR clinicians working with clients with complex trauma or dissociation.
CONTENTS
About the editor and contributors
Chapter 1
Introduction
Millia Begum
Chapter 2
Trauma, complexity and protective armours
Millia Begum
Chapter 3
Memory and integration
Millia Begum
Chapter 4
Introducing Internal Family Systems (IFS)
Zandra Bamford
Chapter 5
Steps of the IFS model
Zandra Bamford
Chapter 6
EMDR in complex trauma
Millia Begum
Chapter 7
Transcending EMDR: dual meets with the 'nondual'
Millia Begum
Chapter 8
Principles and clinical applications of an IFS-informed EMDR approach
Millia Begum
Chapter 9
Revisiting contemporary dissociation
Millia Begum
Chapter 10
IFS and dissociation
Millia Begum
Chapter 11
A phased-oriented IFS-EMDR approach for clients with dissociative identity disorder
Millia Begum
Chapter 12
EMDR therapists and parts
Annabel McGoldrick
Chapter 13
An IFS-informed assessment phase: IFS and EMDR at the nexus of memory reconsolidation
Bruce Hersey
About the Editor(s)
Dr Millia Begum is a Consultant Psychiatrist (member of the Royal College of Psychiatrists) with twenty-two years of experience working with adult mental health and eighteen years-worth of expertise in EMDR therapy. Her focus is on complex PTSD and dissociative disorders. She is trained in Internal Family Systems and uses the IFS-informed EMDR therapy approach for working with all complexities of trauma. She is currently an EMDR facilitator, a supervisor, and a board member and trustee of the EMDR Association (United Kingdom).

Dr Begum has published journal articles on a range of mental health issues, written chapters on using EMDR in specialised conditions such as olfactory reference syndrome and body dysmorphic disorder, and was part of the research team that published an important study comparing EMDR and EFT; this study was one of the few included in the NICE UK guidelines for PTSD.
You may also like