Integrative Psychotherapy: A Mindfulness- and Compassion-Oriented Approach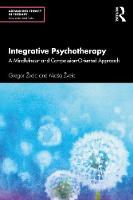 Book Details
Publisher : Routledge
Published : December 2020
Cover : Paperback
Pages : 244
Category :
Individual Psychotherapy
Catalogue No : 95458
ISBN 13 : 9780367259082
ISBN 10 : 9780367259
Integrative Psychotherapy is a groundbreaking book where the authors present mindfulness- and compassion-oriented integrative psychotherapy (MCIP) as an integration of relational psychotherapy with the practice and research of mindfulness and compassion.
The book elucidates an approach which is holistic and based on evidence-based processes of change related to the main dimensions of human experience. In this approach, mindfulness and compassion are viewed as meta-processes of change that are used within an attuned therapeutic relationship to create a powerful therapeutic model that provides transformation and growth. The authors offer an exciting perspective on intersubjective physiology and the mutual connection between the client's and therapist's autonomic nervous systems.
Comprised of creatively applied research, the book will have an international appeal amongst psychotherapists/counsellors from different psychotherapy traditions and also students with advanced/postgraduate levels of experience.
Reviews and Endorsements
Gregor and Masa Zvelc have composed a comprehensive therapeutic approach based on the foundations of Relationally-Focused Integrative Psychotherapy where mindfulness and compassion are viewed as essential meta-processes of change. This book is superbly written and easily understood with useful information for all psychotherapists and counsellors. The authors discuss topics such as the neurobiology of emotional distress, internal regulation, child development concepts, relational schemas, states of consciousness, and the meaning and significance of mindfulness and compassion. Each of their case examples emphasize the centrality of the therapeutic relationship. - Richard G. Erskine, Ph.D, Institute for Integrative Psychotherapy.


Processes of change are the central focus of modern evidence-based psychotherapy. In this rich and interesting volume, the authors show a depth of vision and understanding that coherently draws together processes of change across the spectrum of available models, and does so in a way that is respectful and engaging regardless of your preferences. Thus, no matter your background, if processes of change interest you, you will find much of interest in this volume. I highly recommend it. - Steven C. Hayes, Foundation Professor of Psychology, University of Nevada, Reno and originator of Acceptance and Commitment Therapy.


Integrative Psychotherapy defines the most therapeutically astute utilization of mindfulness and compassion I've seen, because it goes beyond creating awareness of one's existing, limiting patterns to engage the brain's empirically confirmed process of transformational change through memory reconsolidation. The entire methodology is transdiagnostic and transtheoretical, so it is a broadly integrative framework with deep experiential process and active, respectful cultivation of the client's unique world of meaning. - Bruce Ecker, LMFT, Coherence Psychology Institute co-director, co-creator of Coherence Therapy, and co-author of Unlocking the Emotional Brain: Eliminating Symptoms at Their Roots Using Memory Reconsolidation.


Here, introducing MCIP, is a goldmine of theories, ideas, research findings, quotations - beautifully described and discussed by the authors in a very accessible way. There are also simple but meaningful models to explicate the practice of MCIP, such as the five step process of change and the Diamond Model of the Observing Self. The book introduces an approach to psychotherapy that truly integrates mindful and compassionate practices and attitudes into a reparative relationship-orientated model, which is a vibrant, immediate and moving. It is a marriage of erudition and love! - Professor Charlotte Sills, Ashridge Business School and Metanoia Institute, UK.



About the Author(s)
Gregor Zvelc, PhD, is an associate professor of clinical psychology at the University of Ljubljana. He is a Certified International Integrative Psychotherapy Trainer & Supervisor (CIIPTS) and Teaching and Supervising Transactional Analyst (TSTA). He is the co-founder and director of the Institute for Integrative Psychotherapy and Counselling, Ljubljana.
Masa Zvelc, PhD, is a Certified International Integrative Psychotherapy Trainer & Supervisor (CIIPTS). She is co-founder and co-director of the Institute for Integrative Psychotherapy and Counselling, Ljubljana, where she has a psychotherapy and supervision practice and leads training in integrative psychotherapy and supervision.
You may also like