Infinite Possibilities of Social Dreaming

Book Details
Publisher : Routledge
Published : 2007
Cover : Paperback
Pages : 208
Category :
Organisational Psychology
Catalogue No : 24832
ISBN 13 : 9781855754935
ISBN 10 : 1855754932
Also by W. Gordon Lawrence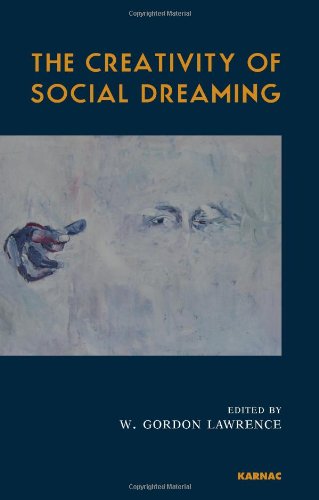 Social Dreaming was discovered in the early 1980s at the Tavistock Institute in London. Its focus is on the dream and not the dreamer. It is done with a set of people who come together to share their dreams. This goes against the accepted belief, even dogma, that the study of dreaming can only be pursued in a one-to-one relationship, where one of the participants is a trained psychoanalyst. The chapters in this book on Social Dreaming indicate the endless possibilities of free association and amplification in social dreaming. Although each writer has conveyed this, there still exist in their texts more detailed connotations and possible meanings of particular dreams. In a sense, their chapters are only beginnings for the reader to expand, as none, is in any sense a complete, final version of the potential meanings of dreams in a particular Social Dreaming Matrix.
Examining recalled dreams with many others in a Social Dreaming Matrix leads to the transformation of the thinking embedded in the dreams. There are infinite meanings to a dream by regarding the dream as an unconscious product of cultural knowledge, not as an expression of the psyche exclusively, opening new possibilities of thinking.

When the individual unconscious resonates, or reverberates, with others in the Matrix the infinite becomes accessible. Being in the infinite is the mental space where new thinking happens. It is the space in which the dream is regarded as an object by taking a global perspective, and giving one's total attention to it, as if it had never existed before. All the finite knowledge of civilisation begins from having the experience of being in infinity, through the awareness of the unconscious with its time-less and place-less qualities, its symbolism, and its paradoxes.
Reviews and Endorsements
'Dwelling in possibility Gordon Lawrence has again created a unique global collection of thinkers and their work. Developing the theory of Social Dreaming and applying it to the life of persons, their organisations and societies. This hopeful book expands the boundaries of psychoanalysis and group analysis.'
- Earl Hopper, PhD; Psychoanalyst, Supervisor and training analyst for The Institute of Group Analysis, The British Association of Psychotherapists and The London Centre for Psychotherapy

'By reading this book I was taken on an exciting, at times mysterious mental journey. Gordon Lawrence's bright idea, his discovery of Social Dreaming, leads us to Bion's "O" experience; it is remarkable that this straightforward simple method can,as Bachelard has said, "touch the depth without stirring the surface". Our social unconscious matrix is a powerful resource for exploring and revealing social, institutional and organisational life. Our unconscious is beautifully exemplified by these international authors.'
- Malcolm Pines, Former Consultant at the Tavistock Clinic, Past President of the International Association of Group Psychotherapy

'Social Dreaming has come of age. This book reveals its confident application to a wide range of settings and issues, its practical relevance to our lives in organizations and in society. The essays collected here show its wide dissemination, from England and America to Italy and Spain, from Australia and South Africa to Israel, Germany, and Austria. It also illustrates how accessible it is to people with an astonishing range of different backgrounds, from highly trained professionals, business executives, and local officials to dispossessed refugees and to the struggling inhabitants of strife-torn communities. And, once again, for all of us, this book shows how restoring dreams to their deeper and broader social context allows them to shine with a greater luminosity and shed a clear light on our common conflicts and dilemmas.'
- Ken Eisold, Past President, ISPSO; Founder, Past Director, Organizational Program, William Alanson White Institute

About the Editor(s)
Gordon Lawrence was a managing partner of Social Dreaming Ltd, London, and a visiting professor at the University of Northumberland, Newcastle, the New Bulgarian University, Sofia, and at La Sapienza, the University of Rome. Formerly, he held a visiting professorship at Cranfield University, Bedford. He was on the editorial board of Free Associations (UK), Freie Assoziation (Germany) and Organizational and Social Dynamics (UK). He was a Fellow of the Australian Institute of Socio-Analysis and a Distinguished Member of the International Society for the Psychoanalytic Study of Organizations.
You may also like