In Freud's Tracks: Conversations from the Journal of European Psychoanalysis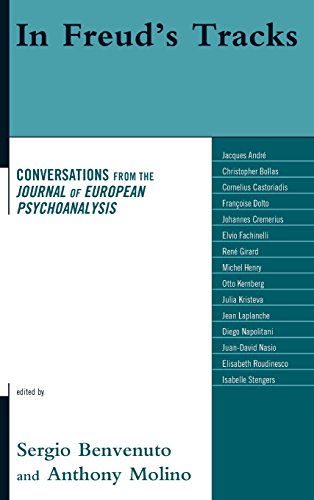 Book Details
Publisher : Jason Aronson
Published : January 2009
Cover : Hardback
Pages : 248
Category :
Psychoanalysis
Catalogue No : 28428
ISBN 13 : 9780765706300
ISBN 10 : 076570630X
Also by Anthony Molino
Also by Sergio Benvenuto
The privileged link of psychoanalysis to spoken language does not necessarily facilitate communication among analysts and psychotherapists of different mother tongues. The Journal of European Psychoanalysis - published since 1995 - has long sought to overcome these linguistic barriers. Traditionally, it has introduced English readers to important European authors, as well as to authors of Latin American countries whose paradigms are close to European "styles." Freed of the editorial and political constraints that often govern the official organs of schools and institutions, the Journal of European Psychoanalysis has, for many years, regularly featured conversations with some of the most prominent and brilliant figures in contemporary psychoanalysis: highlighting debates and trends within psychoanalysis and related fields while remaining ever-sensitive to the practical, ethical, and theoretical implications of clinical practice. In Freud's Tracks collects some of the most engaging and provocative of these conversations, thus tracing a recent history of psychoanalysis in Europe while also evidencing the discipline's vital and vibrant connections with the fields of politics and social policy, science and philosophy, cultural studies and the social sciences.
Reviews and Endorsements
List of Contributors
Jacques André; Christopher Bollas; Cornelius Castoriadis; Johannes Cremerius; Françoise Dolto; Elvio Fachinelli; René Girard; Michel Henry; Otto Kernberg; Julia Kristeva; Jean Laplanche; Diego Napolitani; Juan-David Nasio; Elisabeth Roudinesco; Isabelle Stengers

About the Editors
Sergio Benvenuto is the founder and longstanding Editor-in-Chief of the Journal of European Psychoanalysis.

Anthony Molino is a practicing psychoanalyst and award-winning translator of Italian literature.
About the Editor(s)
Sergio Benvenuto is a psychoanalyst in Rome, president of the Institute for Advanced Studies in Psychoanalysis (ISAP), and a scientific researcher in the Institute of Sciences and Technologies of Cognition at the Italian Council for Scientific Research (CNR) in Rome. He is professor meritus in Psychoanalysis at the International Institute of Psychology of Depth/University of Nice in Kiev. He is also the founder and editor of EJ?. European Journal of Psychoanalysis, published both online and in print.
More titles by Sergio Benvenuto
Anthony Molino, PhD, is a practicing psychoanalyst, anthropologist, and literary translator. His works include The Couch and the Tree: Dialogues in Psychoanalysis and Buddhism, Freely Associated: Encounters in Psychoanalysis with C. Bollas, N. Coltart, M. Eigen, J. McDougall, and A. Phillips and In Freud's Tracks: Conversations from the Journal of European Psychoanalysis.
You may also like