Elaborate Selves: Reflections and Reveries of Christopher Bollas, Michael Eigen, Polly Young-Eisendrath, Samuel and Evelyn Laeuchli, and Marie Coleman Nelson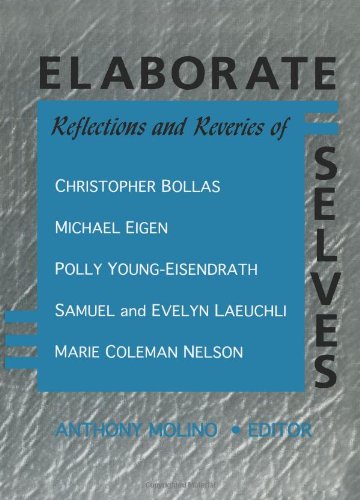 Book Details
Publisher : Haworth Press
Published : 1996
Cover : Hardback
Pages : 232
Category :
Psychoanalysis
Catalogue No : 12509
ISBN 13 : 9780789000118
ISBN 10 : 0789000113
Also by Anthony Molino
In this fascinating volume, Anthony Molino interviews some of today's foremost thinkers in psychoanalysis and psychotherapy. Organized around the fertile and controversial concept of multiplicity, Elaborate Selves explores the life work and thought of a diverse group of therapists who have played key roles in furthering postmodern perspectives on self experience. Through five engaging conversations, readers discover how discontinuities in self experience reflect phenomena that are both fundamental to formations of human identity and central to an understanding of contemporary relationships.
Throughout the strands of these interviews, theory and practice come alive in a multivocal exploration at the intersections of culture and history, ideology and instinct, biology and fantasy, nostalgia and hope, and, ultimately, of trauma and treatment. Elaborate Selves explores the postmodern concern with the notion of a "multiple" or "fragmented" self. In this context, the stories, lives, and "selves" of the very therapists interviewed are seen to reflect predicaments and tensions of the culture at-large. Each interview explores a therapist's unique contribution to the field while making connections between efforts and theories that at a first glance appear remarkably diverse. Among these are: the constructivism of Jungian Buddhist and feminist Polly Young-Eisendrath; the inspired object-relations theorizing of Christopher Bollas; and the mystic sensibilities of Michael Eigen.
Readers will find that the depth and complexities of the following issues are rendered in a language that is at once both compelling and accessible: contemporary theories of the "self" and implications for clinical practice psychoanalysis and postmodernism psychoanalysis and spirituality myth and ritual as a basis for self-knowledge and group psychotherapy A fundamental text for clinicians and students of all schools of psychoanalysis, contemporary social theory, philosophy and religious thought, Elaborate Selves is a major contribution to the ever-growing genre of the interview. Indeed, the interviews collected in this unique volume offer more than an exciting exploration of a singular group of life experiences. They probe beyond the biographical to illustrate connections between personal and intellectual history and between life experience, culture, and the production of knowledge in an increasingly complex world.
About the Author(s)
Anthony Molino, PhD, is a practicing psychoanalyst, anthropologist, and literary translator. His works include The Couch and the Tree: Dialogues in Psychoanalysis and Buddhism, Freely Associated: Encounters in Psychoanalysis with C. Bollas, N. Coltart, M. Eigen, J. McDougall, and A. Phillips and In Freud's Tracks: Conversations from the Journal of European Psychoanalysis.
You may also like