Improvised Theatre and the Autism Spectrum: A Practical Guide to Teaching Social Connection and Communication Skills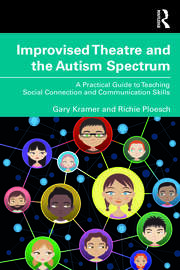 Book Details
Publisher : Routledge
Published : November 2021
Cover : Paperback
Pages : 246
Category :
Autism and Aspergers
Catalogue No : 95976
ISBN 13 : 9781032075501
ISBN 10 : 1032075503
This guide provides educators, professionals, and parents with an easy-to-follow and comprehensive approach to utilizing improvised theatre as a tool to teach social and communication skills to individuals on the autism spectrum.
Opening with the philosophy of the curriculum and the considerations of mental health, play, and environmental factors on individuals with autism, the book then breaks down specific activities, suggests course sequencing, and explains how each activity works and applies to desired outcomes. Packed with dozens of activities and explanations, the book includes all the information necessary to design a full curriculum or create an at-home learning program for parents.
By combining the fun and engaging atmosphere of improvisational theatre with the systematic teaching of social skills, professionals and parents can cultivate learning in a way that keeps students engaged while providing long-lasting improvements in social interaction, self-confidence, and communication.
Reviews and Endorsements
"A groundbreaking work for the fields of special education, approaches for working with those on the spectrum, and others dealing with particular mental health challenges." - Don Waisanen, PhD, author, Improv for Democracy.

"The approach described by the authors is quite innovative, both to watch it in action and to read about...Well planned and organized." -
Inna Fishman, PhD, associate clinical director, SDSU Brain Development Imaging Laboratories.

"Combining the art of improvisation along with science-based methodologies, Gary Kramer and Richie Ploesch have created a powerful, unique, and easy-to-use tool for educators and therapists. This transformative curriculum provides a fun and engaging way for neurodiverse individuals to cultivate social connections and is founded in a strengths-based approach to learning. Add this tool to your therapeutic toolbox and watch your students and clients grow in confidence and connectedness." - Sue Faber-Pew, MA, Speech-Language Pathologist, San Diego Unified School District.

"The world is a better place because Mr. Kramer & Mr. Ploesch have written this book. They have provided us a way to enjoy the valuable and creative human capital of those of us with social skill challenges. Hilarity, poignancy, and health benefits are just bonuses to this awesome truth. Hurry up and play." - Les McGehee, author, Plays Well with Others.
You may also like