Improve Your Writing with NLP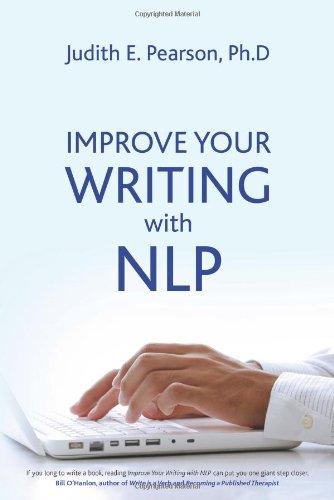 Book Details
Publisher : Crown House Publishing
Published : 2013
Cover : Paperback
Pages : 208
Category :
Neuro Linguistic Programming
Catalogue No : 36478
ISBN 13 : 9781845908614
ISBN 10 : 1845908619
Also by Judith E. Pearson
This timely book details the Neuro Linguistic Programming (NLP) strategies that can transform a tentative, novice writer into a passionate, productive dynamo, adapting the resourceful states, beliefs, cognitive strategies and behaviours of highly accomplished writers. If you are new to the game of writing, if you feel intimidated by a blank page, if you have ever started a writing project but run out of steam, then this book is for you.
Your guide is Dr. Judith E. Pearson, an NLP Trainer and author of three books on NLP and over 200 published articles and reviews. Through the magic of NLP you'll discover the thinking patterns and cognitive strategies of accomplished writers. You'll learn the writing process from beginning to end - from romancing your idea to ruthless editing and revision - and you'll learn strategies for overcoming writer's block.
The secret to great writing lies in learning how to alternate between three mindsets: Dreamer, Realist and Critic. The author will tell you exactly how to get into each mindset and how to apply it. This book will teach you the NLP models for creativity, tenacity and meticulous attention to detail. Read this book and you'll know how to write persuasively, hypnotically and prolifically.
About the Author(s)
Judith E. Pearson PhD is a Licensed Professional Counsellor, NLP Practitioner/Trainer and Certified Hypnotherapist in solo practice in Springfield, Virginia. She is Executive Director of the National Board of Certified Clinical Hypnotherapists and teaches at the American Hypnosis Training Academy. She holds a PhD in Counselling and has published over 100 articles on NLP, hypnotherapy, and self-help.
You may also like