If You Can't Trust Your Mother, Who Can You Trust?: Soul Murder, Psychoanalysis, and Creativity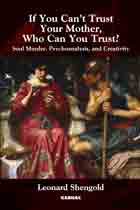 Book Details
Publisher : Karnac Books
Published : January 2013
Cover : Paperback
Pages : 336
Category :
Psychoanalysis
Catalogue No : 33069
ISBN 13 : 9781780491097
ISBN 10 : 1780491093
Also by Leonard Shengold


The main theme of this book concerns the continuing psychic centrality of parents for their children. Several chapters examine an author and his works, outlining that author's relationships with parents, good-and-bad, and making descriptive comments about these based both on information gleaned from the author's life and writings as well as from observations found in autobiographies, biographies and critical works. Since these studies in part concern stories of child abuse and deprivation, the book predominantly illustrates bad parenting that seems to have contributed to the child's psychopathology. Yet in most cases there has also been an evocation by the trauma and deprivation of adaptive and even creative reactions--this positive effect also of course largely attributable to concomitant good parenting--and yet there are some cases where little of this seems to have existed and yet the children still turn out to be able to make something of themselves. The conditions that make for psychic health in a traumatized childhood are mysterious and can't always be accounted for.
The central mental and emotional importance of the parents in earliest development of the child's body and mind is generally accepted. The continuing lifelong centrality of parental actual and (predominantly unconscious) psychic presences that can motivate emotions, thoughts, and actions, and persist for the rest of a person's life, is frequently not recognized, acknowledged, nor denied. As the author notes, "We spend so much of our lives, especially as middle age and old age approaches, waiting for a magically endowed good parent who will fulfill the promise of our earliest years, waiting, as Becket puts it, for Godot to restore us to our narcissistic beginnings, at least intermittently full of the promise of eternal happy existence."
Reviews and Endorsements
'In this book, Leonard Shengold's passion to heal, his unswerving commitment to patients, his insistence that psychoanalysts pay attention and bear witness, and his capacious, omnivorous reading, thinking, and gathering of historical and biographical facts, once again shine forth. Over a lifetime, Shengold has documented those heart-breaking, life-shattering childhood experiences of intentionally inflicted trauma - soul murder, haunting by parents - that he has soldered into the psychoanalytic lexicon. Following his patients to the darkest recesses of painful experience and brutality, this eminently humane analyst manages an optimism, telling us, in conclusion, that "the analyst has the privilege of assisting in the psychological rebirth of a soul".'
- Nancy J Chodorow, author of Individualizing Gender and Sexuality, The Power of Feelings, and other works

'In If You Can't Trust Your Mother, Who Can You Trust? Leonard Shengold extends his invaluable and groundbreaking work about the importance and complexities of soul murder. He elucidates how parents have an enduring effect on all of us throughout our lives. Shengold helps us to grapple with the compelling question of why, despite great adversity in early years, some children lead lives that show incredible adaptive ability, success and creativity. The use of literature and biographies to study these issues provides an invaluable dimension to the psychological perspectives. Once again it is immeasurably enriching and stimulating to follow Shengold in his explorations of what is closest to the human heart. This is an opportunity not to be missed.'
- Steven Luria Ablon MD, Training and Supervising Adult and Child Analyst at the Boston Psychoanalytic Society and Institute, Associate Clinical Professor at Massachusetts General Hospital, Harvard University Medical School
About the Author(s)
Dr Leonard Shengold is a training analyst and former Director of the Institute for Psychoanalytic Education (affiliated with NYU School of Medicine, where he is Clinical Professor of Psychiatry). He has published eight books including Soul Murder (1989), Haunted by Parents (2006), and over seventy-five papers on clinical, theoretical and applied psychoanalytic topics. He graduated from Columbia College and Downstate New York Medical School, was an officer in both the American and the International Psychoanalytic Associations, and is currently in private practice as a psychiatrist in New York City.
You may also like