How Does Psychotherapy Work?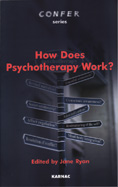 Book Details
Publisher : Routledge
Published : 2005
Cover : Paperback
Pages : 296
Category :
Individual Psychotherapy
Catalogue No : 21926
ISBN 13 : 9781855753068
ISBN 10 : 1855753065
Also by Jane Ryan
Our Customers Average Rating
Read all reviews (1)





It is said that the question "how does psychotherapy work?" cannot be answered conclusively - that we cannot reach into the depths of a deeply private relationship and pluck out a precise truth about what occurs within it. This book defies that notion. Here, the question is both beautifully explored and answered by leading psychotherapists from different schools to create a fascinating volume of ground-breaking ideas and theory.
Each contributor unravels the procedures of the work, discussing the qualities of good psychotherapy from their own personal and theoretical perspectives. They explore the reasons why people seek help, how they can be helped and the goals of the therapeutic journey, each of them writing with precision, clarity and passion for the work they do. Despite the wide range of variations in their theory and technique the eleven contributors to this book are united in finding certain common denominators in successful psychotherapy.
How Does Psychotherapy Work? presents a thought-provoking, cogent and convincing dialogue on the capacity of psychotherapy to help people who are in emotional pain, and the technicalities of that process.
Contributors:
Neil Altman; Roz Carroll; Sue Cowan-Jenssen; Nicola Diamond; Carol Holmes; Brett Kahr; Dianne Lefevre; Susie Orbach; James Pollard; Jane Ryan; Joseph Schwartz; and Robert Maxwell Young.
Reviews and Endorsements
'There is no more important question in psychotherapy than this one. Jane Ryan and her eleven contributors deserve the highest praise, first for taking on this topic and, second, for succeeding admirably. Psychotherapy does work. People who want to find out how should read this book. And people who think they already know how it works could find a lot here that is new and valuable. The book also gives an excellent sense of what it is like to be in a psychotherapy relationship.'
- Dr Morton Schatzman, American psychiatrist, UK-based psychotherapist
About the Editor(s)
Jane Ryan trained as a psychoanalytic psychotherapist in the early 1990s. She is the founder and director of Confer, an independent organisation that provides cutting-edge continuing professional development for psychotherapists and medical doctors. It also aims to provide a non-partisan space for the exchange of views between approaches.
Customer Reviews
Our customers have given this title an average rating of 5 out of 5 from 1 review(s), add your own review for this title.
Linda on 15/04/2007





(5 out of 5)
Very thought-provoking
You may also like