How Compassion can Transform our Politics, Economy and Society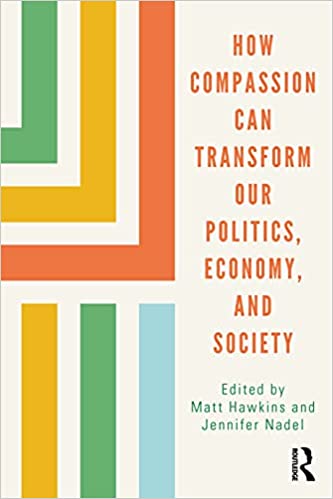 Book Details
Publisher : Routledge
Published : October 2021
Cover : Paperback
Pages : 248
Category :
Individual Psychotherapy
Catalogue No : 95997
ISBN 13 : 9780367353940
ISBN 10 : 0367353946
How Compassion can Transform our Politics, Economy and Society draws together experts across disciplines - ranging from psychology to climate science, philosophy to economics, history to business - to explore the power of compassion to transform politics, our society, and our economy.
The book shows that compassion can be used as the basis of a new political, economic, and social philosophy as well as a practical tool to address climate breakdown, inequality, homelessness, and more. Crucially, it also provides a detailed plan for its execution. It marks the first time that the study of compassion has been applied across multiple disciplines.
The book provides a template for the study of compassion on an interdisciplinary basis and will appeal to academics, professionals and the general reader searching for a fresh and inspiring approach to the seemingly intractable problems facing the world.
Reviews and Endorsements
"The past year, the year of Coronavirus, has tested us in ways like never before, yet paradoxically it's also revealed the sort of society we want to be: kinder, more compassionate, with a focus on rebuilding our local communities. The thousands who volunteered to support the NHS during the pandemic, the outpouring of community spirit, and the way people and neighbourhoods came together to help the most vulnerable was truly inspiring. It's clear that people want the chance to create compassionate communities. It's up to politicians to take a lead, and to help make that happen - and this timely book is the guide we need." - Caroline Lucas, MP for Brighton Pavilion.

"In a world split by vicious political divisions, threatened by climate change, and riven with inequality, we need a new politics. Divisions cannot be healed with hate or by politics built on fear, blame and resentment. We need politics built on compassion, empathy and understanding. This book is a blueprint for a shared, equitable and sustainable future based on humane values." - Deeyah Khan, film producer.

"Compassion is the foundation for a thriving society and we have mounting evidence for its transformative impact - in our communities, schools, organisations and beyond. At this time of growing divisions in our society and toxicity in our politics, this insightful and evidence-based book is urgently needed. Together we can bring out the good side of human nature and build a better world." - Mark Williamson, CEO Action for Happiness.

"This book brings together an impressive collection of influential thinkers and activists that provides not only a key foundational text for the study of human compassion over the coming decade, but also a profoundly important manifesto for the creation of a better and more compassionate society. Grounded in rigorous scholarship, the book leaves the reader in no doubt of the continued importance of human connectedness and our enduring capacity for kindness and is a shining torchlight of hope showing us that there is a way out of the current bleakness casting a dark shadow over modern day society." - David Scott, Senior Lecturer in Criminology, Open University.

"In these dark times, it is heartening to hear a range of voices celebrating both the compassion and care of human beings and our shared humanity. Read this book if you can!" - Alison Assiter, Professor of Feminist Theory, University of the West of England.

"This book is a fascinating and thought-provoking book which starts by reflecting on the scientific and philosophical background to compassion, before the lens of compassion is brought to many aspects of contemporary life, from the way the business world operates to our attitudes to justice and the environment. The othering and absence of compassion in the framing of our culture, our policies and our structures is laid bare. This book is a clarion call - a call for us to address the compassion deficit in public life with an approach based on solidarity and courage rather than hostility or pity." - Helen Pankhurst, Senior Adviser of CARE International and grand-daughter of Sylvia Pankhurst.

"As populism, fragmentation, climate change and pandemics sweep across the globe, compassion and common human bonds are being reasserted. The future of the human race depends on cooperation and mutuality. Alarmed by these developments, espousers of extreme individualism and competition contemptuously dismiss what they see as 'do-gooding' and 'virtue signalling'. They are on the wrong side of history, and as, this illuminating book shows, of science, economics, sociology and ethics too. Established and emerging experts are making a case for compassion in public life with vision and authority. Here is an assembly of some of the best and deepest of those thinkers." - Yasmin Alibhai-Brown, journalist.

"This book offers an inspiring collection of insights and a persuasive call to action. Are we selfish creatures, or is the innate capacity for compassion our most human quality? How have the better angels of our nature shown up throughout history and can we coax them into the public realm? And how could this impact the most pressing issues of our time? Now is a time to tell better stories about ourselves, and reach for our true potential. This rich resource shows us how to begin." - Jamie Bristow, Director of the Mindfulness Initiative.

"This brilliant book comes at a perfect time. It introduces the voices of activists, scientists, journalists and academics over a wide range of subjects, revealing the transformative power of compassion. Whilst championing the power of individual action and responsibility, it also recognises the urgent need for system change, and proposes the welcome and radical idea that politics should have compassionate practise and policy as its guiding principle. It is persuasive, fortifying, moving, thorough and far reaching. If you, like me, have never lost your faith in people but have felt despair and exasperation at our political systems: read and learn from this book, gain hope, and join the cause." - Bernadette Russell, activist and author of How to Be Hopeful.

"Many of us want a public life marked by more compassion and less cruelty. Can we develop a politics that tackles inequalities of wealth and dignity, but avoids endless culture/identity wars, where politics becomes simply a dopamine drenched server? This timely collection of essays aims to explore how compassion can shape our public life in the years ahead". - Douglas Alexander, fellow of Harvard University and Visiting Professor at King's College, London and former MP and Secretary of State for Work and Pensions and Foreign Affairs.

"This book takes an idea that seems at odds with our fractious moment, but this volume shows compassion is deeply necessary to reconnecting with each other and finding solutions to the problems we share. Understood as feeling with each other as equals, rather than pity, compassion is a capacity we have worked hard to develop and needs tending, especially if we want it to shape our politics. Compassion is central in forming nurturing relationships and realising the best in our humanity, offering fresh perspectives on the social role of corporations, the failures of immigration policy, the challenge of living sustainably, and more. In our conflictual times, the call to encourage, practice, and institutionalise compassion is transformative." - Joe Hoover, Queen Mary, University of London.
About the Editor(s)
Matt Hawkins is Co-Director of the think-tank Compassion in Politics. He was part of the Nobel Peace Prize- winning team at the International Campaign to Abolish Nuclear Weapons (ICAN), which successfully lobbied the UN to introduce a ban on nuclear weapons. Most recently, he managed the Equal Civil Partnerships Campaign, which secured the introduction of civil partnerships for mixed-sex couples.
Jennifer Nadel is Co-Director of the think-tank Compassion in Politics. She is a qualified barrister, author, political strategist, activist, speaker, and award-winning television journalist. She has reported for the BBC, Channel 4 News, and was ITN's Home Affairs Editor. She has run for parliament twice and is the co-author of The Sunday Times Bestseller We: A Manifesto for Women Everywhere, which is a roadmap for compassionate change.
You may also like