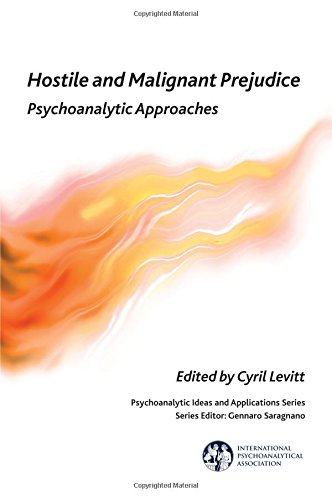 Book Details
Publisher : Routledge
Published : October 2014
Cover : Paperback
Pages : 240
Category :
Psychoanalysis
Catalogue No : 35074
ISBN 13 : 9781782201113
ISBN 10 : 1782201114
Hostile and Malignant Prejudice: Psychoanalytic Approaches represents the leading edge of work in the field by members of the International Psychoanalytical Association's Committee on Prejudice (Including Anti-Semitism), psychoanalysts who hail from Belgium, Brazil, Canada, Germany, Peru, Sweden, the United States, and Uruguay. It pursues the issues surrounding hostile and malignant prejudice as defined in the first chapter by Henri Parens, whose path-breaking work over four generations with children and their mothers uncovered the sources of aggression and prejudice on a scale from jocular slurs to murderous genocide. One chapter examines the effects of Latin America's colonial past on the psychic development of a 'mixed race' young man whose analysis implicates a major racial and social divide in the heart of his society. In another chapter we learn of the identity conflicts of children who were separated from their parents during the Holocaust and hidden or 'hidden in plain sight' by adopting a Christian persona. Other chapters examine the philosophical implications of the psychoanalytic approaches to hostile and malignant prejudice in human history, and the application of psychoanalysis to international relations. The various chapters and aproaches of the book take psychoanalysis to the borderline areas of anthropology, philosophy, politics, and sociology to illuminate and offer ways to understand and treat in a practical way one of the greatest scourges in human history.
Reviews and Endorsements
'This tightly-knit collection of papers is like a clear light in the darkness of prejudice, which, as each author points out, is in all of us. Brilliant new perspectives are raised from the collective experience of authors from different countries, together with compelling suggestions for ameliorating the more malignant effects of prejudice. The reader will come away with many questions, sobering limitations on quick solutions, and yet be stimulated by the erudition of the writers and the humility and clarity with which they write.'
— Stuart W. Twemlow, MD, visiting Professor, University College London (Health Sciences) and editor-in-chief of International Journal of Applied Psychoanalytic Studies

'Deftly interweaving history, political science, large group psychology, and psychoanalytically-informed child developmental observations, this book offers a panoramic view of the rampant problem of ethno-racial vilification and violence. The reader might or might not agree with some of the views expressed in these pages but will be consistently impressed by the nuanced conceptualisation and virtuosity of thought contained here. As a result, the book will not only have a powerful impact upon our understanding of the phenomenon of prejudice, but also upon the emerging social policy and praxis in this realm.'
— Salman Akhtar, MD, Professor of Psychiatry, Jefferson Medical College; Training and Supervising Analyst, Psychoanalytic Center of Philadelphia

'Prejudice has been a scourge in our time. It is a special threat to human well-being when individuals remain unaware of its origins in themselves, and project their aggression against others, derogating them and wrongly vindicating their prejudice by membership in an ideological, nationalistic, or religious group. Cyril Levitt and his distinguished contributors have brought the much-needed light and understanding of psychoanalysis to this all-too-human darkness. Amongst the book's many insights, it makes clear the individual's responsibility for prejudice, whether accepted or not. Hostile and Malignant Prejudice is the result of the generous, dedicated, excellent work of the chair and members of the IPA Committee on Prejudice (Including Anti-Semitism) who are its authors.'
— Professor Charles Hanly, Training and Supervising Analyst, Canadian Psychoanalytic Society; Professor Emeritus, University of Toronto; President, International Psychoanalytical Association (2009–2013)

'This book helps us to understand how prejudices and ideologies are able to gain a vice-like grip on people's ideas and ways of thinking, both individually and in large groups. The contributors provide excellent insights into our difficulties with tolerating diversity and the ambiguity and ambivalence of life, the seductive attraction of prejudice with its denial of differences, the danger of projections in the attempt to achieve purification, and the role of early identification processes and education in the formation of malignant prejudice.'
— Werner Bohleber, PhD, psychoanalyst; editor of the journal Psyche, and author of Destructiveness, Intersubjectivity, and Trauma: The Identity Crisis of Modern Psychoanalysis
About the Editor(s)
Cyril Levitt was the chair of the Committee on Prejudice (Including Anti-Semitism) of the International Psychoanalytical Association, 2009–2013. He is a professor in the Department of Sociology at McMaster University, Canada, and is also a psychoanalyst in private practice in Toronto.
You may also like