Healing Intelligence: The Spirit in Psychotherapy - Working with Darkness and Light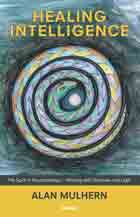 Also by Alan Mulhern
Natural healing intelligence is one of the great mysteries of the psyche. It is inherently elusive yet lies at the core of all efforts to cure emotional wounds. Psychotherapy and counselling, when done in depth, pass beyond interpretation to work directly with this powerful force. This book is intended to help those who suffer such emotional wounds by illuminating the path of healing as well as to provide deep insight and effective methods for the practitioner.
Reviews and Endorsements
'This is a highly creative book exploring the interface between emotional wounds, psychotherapy, and spirituality. Alan Mulhern, a Jungian psychotherapist, takes many enlightening case studies to show how healing experiences are the milestones of the individuation process. It is recommended for practitioner, trainee, and client alike, as well as anyone seeking deeper knowledge on the healing intelligence that lies in the psyche. Lindsey Harris's fascinating pictures complement this fine work.'
- Jules Cashford, co-author of The Myth of the Goddess

About the Author(s)
Alan Mulhern, trained as a Jungian psychotherapist, has worked for twenty-five years in private practice in London. He has given numerous workshops in both the UK and in Venezuela on subjects such as dream analysis, narcissism, the shadow, psychoanalytic diagnosis, and healing in psychotherapy. He has written on the subject of the changes in the profession of psychotherapy in the modern age.
You may also like