Everyday Life and the Unconscious Mind: An Introduction to Psychoanalytic Concepts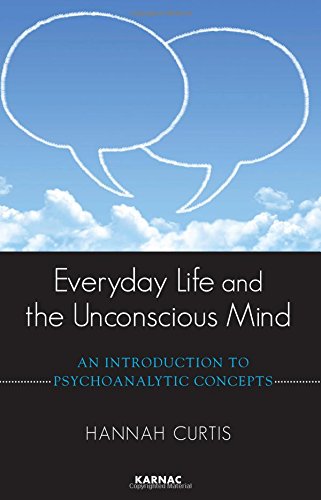 Book Details
Publisher : Routledge
Published : July 2015
Cover : Paperback
Pages : 148
Category :
Psychoanalysis
Catalogue No : 35946
ISBN 13 : 9781782201946
ISBN 10 : 1782201947
An increasing number of people are seeking to develop an understanding of psychoanalytic concepts in order to apply them to the ordinary situations that they encounter as they go about their work, family and social lives. Some of these people are students just leaving college and going on to university, some are managers seeking to understand the dynamics of work place relationships and some are the friends or families of people who suffer with emotional distress or mental health issues.
Everyday Life and the Unconscious Mind is written for students, for those who work in the care sector, or in management, and for those who love someone who is struggling emotionally. It explains and clarifies some of the concepts that address the way in which the unconscious mind works and how it seeks to manage its feelings.
It includes chapters on trauma and defence mechanisms, which are to do with how we cope with events that act like a psychological blow to our self esteem or our identity. It also discusses transference and countertransference, concepts which have traditionally been confined to the consulting room, but which can be mobilised in a number of different sorts of relationships, and if understood can contribute to the moment-by-moment decisions that we make in our everyday relationships. The book also clarifies what is meant by 'projective identification', a fundamental concept in understanding the profound nature of communication between people and absolutely invaluable in work with people in distress or with mental health difficulties.
Reviews and Endorsements
'This is an engagingly non-technical journey through the basics of the psychodynamic view of human beings and their relations with each other. It is one hundred years since Freud wrote his book on everyday life, but here we are again. It is the nature of unconscious dynamics that they need constant reiteration for every generation. Here is a book for the present generation of people working in the toughest of environments, including those with the toughest of kids in care. The text has a direct, gentle and calm approach to the violence of the unconscious. I recommend this book for the charm of the writing, as well as the careful exposition of the complexities of our unconscious minds which inevitably we all resist exposing.'
––Professor R.D. Hinshelwood, University of Essex

'This is an important book. Hannah Curtis carefully assembles the building blocks of the key framework of psychoanalytic thinking. This is an essential read for all who care about what it is to be human, and are keen to think more deeply about the emotional life of the mind.'
––Chris Tanner, Lecturer, Therapeutic Communication in Therapeutic Organisations, University of Essex
About the Author(s)
Hannah Curtis is a senior psychoanalytic psychotherapist with twenty years experience in private practice. She is also a lecturer in the Centre for Psychoanalytic Studies at the University of Essex. She is a wife, mother and grandmother who passionately believes that an understanding of psychoanalytic principles can enrich and deepen the everyday encounters and relationships that people experience as they go about their working, family and social lives.
You may also like