Healing from Clinical Trauma Using Creative Mindfulness Techniques: A Workbook of Tools and Applications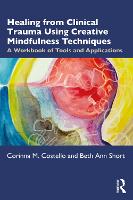 Also by Corinna M. Costello
This workbook offers diverse strengths-based tools to incorporate the Creative Mindfulness Technique (CMT) into clinical practice. It provides an essential understanding of the ethical scope of practice, ensuring that clinicians consider the depth of their own training in the implementation of the CMT art directives.
Chapters explore aspects such as attachment and art therapy, multicultural considerations when using art with clients, mindfulness, the eight dimensions of wellness, and the application of CMT techniques with clients affected by PTSD, anxiety, and low self-esteem. The creative activities, mindfulness approaches, and arts-based exercises provided support the healing process of clients in ways that are accessible, practical, and easy to execute. Examples of activities include guided imageries with art-making, art journaling directives, and mixed media prompts. Through these exercises, clients will learn to draw upon their strengths and feel empowered in their daily lives.
People with PTSD/clinical trauma, stress, addiction, and anxiety, and clinicians and mental health practitioners working with them will find this book to be an essential tool.
Reviews and Endorsements
"Creative mindfulness practices have been so valuable for taking care of myself as a mental health clinician. The creative process gets me out of my head and allows for different perspectives, problem-solving, and healing of vicarious trauma." - Sara DeWitt, LPC, CADC I.

"Healing from Clinical Trauma Using Creative Mindfulness Techniques is a beautiful, creative, thoughtful, and well written work. It is highly recommended for art therapists who use mindfulness creativity in their work already or are just beginning to develop this practice for themselves." - Kazz Artis, Art therapist, Artist, Mental health consultant.

"In and out of calendar days and countless therapies; faced with abundant challenges in processing pain, angst & argument around abuse, reframing victimization into victories... Beth Ann's compassionate and supportive guidance through the Creative Mindfulness Technique means of art-making has been transformative. Despite statistically calculating naysayers who'd suggest mental illness outcomes grow progressively more dire with age, I embrace a more hopeful future, in large part to rediscovery, reinvention and renewed purpose founded upon practicing Creative Mindfulness." - Lindsey Grant
About the Author(s)
Corinna M. Costello, Ph.D., LCMHCS, ATR-BC is the director of student support and a core faculty member of clinical mental health at The Family Institute of Northwestern University. Dr. Costello also practices art therapy. She contributed chapters for The Neuroeducation Toolbox and Encyclopedia of Couple and Family Therapy. She has also written and presented extensively on PTSD, anxiety, resiliency, mindfulness, and art therapy.
You may also like