Handbook of Violence Risk Assessment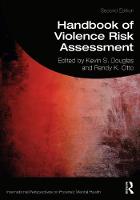 Book Details
Publisher : Routledge
Published : December 2020
Cover : Paperback
Pages : 474
Category :
Individual Psychotherapy
Category 2 :
Forensic
Catalogue No : 95440
ISBN 13 : 9781138698697
ISBN 10 : 9781138698
The Handbook of Violence Risk Assessment: Second Edition, builds on the first edition's comprehensive discussion of violence risk assessment instruments with an update of research on established tools and the addition of new chapters devoted to recently developed risk assessment tools.
Featuring chapters written by the instrument developers themselves, this handbook reviews the most frequently used violence risk assessment instruments-both actuarial and structured professional judgment-that professionals use to inform and structure their judgments about violence risk. Also included are broader chapters that address matters such as the consideration of psychopathy and how the law shapes violence risk assessment.
Already the primary reference for practitioners, researchers, and legal professionals in this area, this second edition's easy-to-access, comprehensive, and current information will make it an indispensable reference for those in the field.
Reviews and Endorsements
My endorsement of the Handbook's 2010 edition predicted it would become violence risk assessment's "best sourcebook for the next decade." It did, and this new edition will do the same. Thoroughly updated, revised and expanded, this comprehensive and dependable resource should be within reach whether you are a forensic clinician, researcher or trainee. - Thomas Grisso, PhD, emeritus professor, University of Massachusetts Medical School.

Staying abreast of newly published and updated violence risk assessment tools is a challenge. This compendium provides a current, authoritative, concise review of major tools-and will be an indispensable resource for forensic and correctional practitioners. -Jennifer Skeem, Florence Krenz Mack Professor of Social Welfare, professor, Goldman School of Public Policy, University of California, Berkeley.


The science and practice of managing violence risk are both changing fast. The editors have engaged first-rate scientists and practitioners to provide a state-of-the art overview of this vital-but challenging-field. The result is authoritative, scholarly yet inherently practical. The new edition of this classic handbook is essential reading for those tasked with managing those at risk of violence. The guidance provided is not only clinically astute but also rock-solid scientifically. - David J. Cooke, PhD, faculty of Psychology, University of Bergen, Bergen, Norway.

The latest edition is an invaluable resource for clinicians, lawyers, and judges - and a must-read for students. Retaining the strengths of the first edition, original chapters have been updated to reflect the rapid developments in the field as well as the substantial revisions and further evaluations of the measures. Chapters reviewing additional measures have been added, and a new chapter summarizes screening and emerging measures. The chapter that describes key legal issues and developments is a necessary and welcome addition. - James R. P. Ogloff, University Distinguished Professor & Director, Centre for Forensic Behavioural Science, Swinburne University and Forensicare, Melbourne, Australia.

This book is a compendium of information and evidence relating to the most important risk assessment guidance available today. As such, it is an essential resource for practitioners working in a wide range of forensic mental health, criminal justice, and civil settings, and with children and young people as well as with adults. Whether you are an established practitioner or early in your career, this volume should be required reading to inform professional decision-making as regards violence risk assessment and management. - Caroline Logan, MA, MAppSci, DPhil, Greater Manchester Mental Health NHS Foundation Trust and University of Manchester, Manchester, UK.



About the Editor(s)
Kevin S. Douglas, LLB, PhD, is Professor of Clinical-Forensic Psychology at Simon Fraser University; Researcher at Helse Bergen HF Competence Centre in Forensic Psychiatry; and Senior Research Advisor at the Oslo University Hospital Competence Centre in Forensic Psychiatry.
Randy K. Otto, PhD, ABPP, has been a faculty member at the University of South Florida since 1989. His primary appointment is in the Department of Mental Health Law and Policy, and he has adjunct appointments in the Departments of Psychology and Criminology.
You may also like