Group Analytic Art Therapy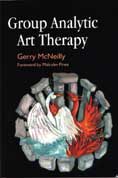 Also by Gerry McNeilly
Our Customers Average Rating
Read all reviews (1)





Written by an internationally renowned psychotherapist, this comprehensive reference provides readers with a practical and theoretical framework for using group art therapy in a range of settings. It is packed with suggestions and explanatory diagrams, for practising and trainee art therapists, psychotherapists and group therapists.
Customer Reviews
Our customers have given this title an average rating of 3 out of 5 from 1 review(s), add your own review for this title.
Leicester Review of Books, http://leicesterreviewo on 04/03/2006





(3 out of 5)
Reviewed by Ambrose Musiyiwa

Gerry McNeilly's Group Analytic Art Therapy fills a gap in group art therapy literature on both sides of the Atlantic.

It highlights the deficiencies that are there in group art therapy literature and the sparseness of research in art therapy in the United Kingdom. The book reinforces the need for art therapy theoreticians and professionals to continue researching aspects of their profession and to write about their efforts. It encourages them to reflect on their practice and to share those reflections with the wider community of professionals working in therapeutic enterprises.

McNeilly observes: "There is only one art therapy journal in the UK, Inscape, and this has published little on group art therapy . I'm aware of only two books that address groups specifically from a psychotherapy perspective: Group Interactive Therapy (Waller 1993) and Art Psychotherapy Groups (Skaife and Huet 1998), which covers a wide range of clinical settings from a number of British art therapists."

He contrasts this state of affairs in British art therapy with the United States where a large body of art group literature has been produced even though very little of that literature considers art psychotherapy groups.

Group Analytic Art Therapy has 11 chapters and is in two parts, "The Origins" and "The Portuguese Papers - new developments".

The book outlines the history of the theory and practice of group analytic art therapy. It builds on key concepts of group analysis and discusses how these can be adapted to art therapy groups.

In the six chapters that make up Part One, McNeilly recounts how his involvement with groups, in general, and group art therapy, in particular, started and developed. He examines, among other things, the concepts of the 'group as a whole'; 'the individual in the group'; transference constellations; and the place of interpretation and the bearing this has on the individual, the group and the therapist in a group art therapy session.

In Part Two of the book, he extends the well-held perspectives on the triangle concept into a more three-dimensional appreciation that is more integrated with group analytic approaches. He looks at resonance and links it to intuition and wisdom, complexity, subtlety and simplicity. He illustrates how the concepts of cross-fertilisation and grafting, as well as the interconnectedness between content, process and the structural aspects of group analysis are shown in the relationship between the art and the verbal group. He also discusses the matrix, the concept of the pattern and defines 'the fullness of emptiness' as a bond between matrix and pattern.

Throughout Group Analytic Art Therapy, McNeilly draws on his own experiences as a child, a student, musician, group analytic therapy trainee and art therapist. He presents his material in a manner that is easy to read and follow.

Hopefully, when he and Jessica Kingsley Publishers prepare the book's second edition, they will further tighten their hold over how it is structured and eliminate some the few flaws that the book has. For example, on page 154, when McNeilly writes: "Intuition is spoken less about less in group analysis .", did he intend to say "Intuition is spoken about less in group analysis ."? On page 171, he tells us that Helen drew seven ghosts but then goes on to talk about the nine ghosts and how these represent the age at which she was abandoned.

On page 52, McNeilly uses a quotation from when Foulkes was writing about the group and the individual and goes on to argue, among other things, that with Foulkes' definition in mind, it is easy to see how the score of group analysis can be transcribed to group analytic art therapy. On pages 188-189, McNeilly uses the same quotation and repeats the comments he had given on page 52.

Group Analytic Art Therapy would be more effective if the narrative that runs through it is as chronological as possible. An attempt has been made to do this but the reader still constantly has to flick back to earlier pages and chapters to revisit and review concepts alluded to or discussed earlier that are mentioned again in later pages and chapters. Keeping the narrative strictly chronological will reduce unnecessary repetition.

In addition to the above, in almost every chapter, McNeilly tells the reader that he is not going to or cannot discuss certain aspects of the subject because space is limited. He also uses the phrase, "In conclusion .", in almost every chapter. These two habits are irritating and they disrupt the narrative.

In spite of these minor flaws, Gerry McNeilly's Group Analytic Art Therapy is an important contribution to the relatively still small body of group art therapy literature. Art therapists, group analysts, psychotherapists and art educators will find the book useful for the insight it gives into the theory and practice of group art psychotherapy.


You may also like