God, Freud and Religion: The Origins of Faith, Fear and Fundamentalism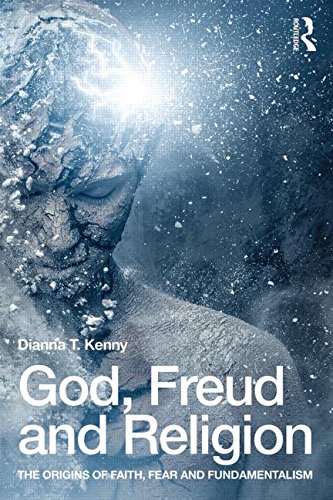 Book Details
Publisher : Routledge
Published : 2015
Cover : Paperback
Pages : 256
Category :
Culture and Psychoanalysis
Catalogue No : 37020
ISBN 13 : 9781138791336
ISBN 10 : 1138791334
Also by Dianna T. Kenny
Our Customers Average Rating
Read all reviews (1)





The Bible tells us that God created man in his own image. Freud argued the reverse - that Man created God in his image. This book interrogates these two propositions to provide a coherent account of why people might believe in God. In God, Freud and Religion, a psychoanalytic perspective and Freud's works on religion offer a framework for examining the genesis of religious belief and its use in manipulating human behaviour for secular or political purposes. Drawing on theories from psychoanalysis, developmental, cognitive, social psychology, and neuroscience, Dianna Kenny examines arguments for and against belief and explores the relationship between science and religion, and between religion and cognition and emotion.
All of Freud's major works on religion are analysed with a view to assessing his theoretical formulations about the origins of religion. This includes a discussion of religious delusions that occur in psychotic states and the psychodynamics of religion's close cousins and allies - myths, legends and fairy tales - that arose in the course of human evolution and took their place alongside religion in the human psyche. Also examined are the personal psychologies of philosophers, believers and non-believers and how their individual life experiences impact on their belief systems.
Using the frameworks of social psychology and psychoanalytic theory, the book concludes with an examination of group processes, including cult membership, the origins of interpersonal violence, terror theology, Christian and Islamic fundamentalism and the meaning of suicide bombing. A unique approach to understanding religious belief, God, Freud and Religion will be of interest to psychoanalysts, psychologists and psychotherapists, students of psychology, psychoanalysis, philosophy and theology and all those with an interest in religion and human behaviour.
About the Author(s)
Dianna T. Kenny is Professor of Psychology at the University of Sydney. She has also been, at various times, a school psychologist, child and adolescent psychologist, psychotherapist, and marriage and family therapist. She is the author of over 200 publications.
Customer Reviews
Our customers have given this title an average rating of 5 out of 5 from 1 review(s), add your own review for this title.
Cassandra Stamatis on 01/09/2015 01:13:03





(5 out of 5)
I have puzzled over the many questions tackled in Dianna Kenny's book for most of my adolescence and adulthood. I have struggled with my agnosticism and am troubled by the seemingly endless global conflicts. This book has provided me with a new framework for thinking about these issues. It is the first book I have read that brings together so many pieces of the puzzle. This is the novelty of this book. It invovles many disciplines and the presentation of many perspectives that cast new light on ageless philosophical issues. Dianna is very erudite and convincing - she is so widely read; she presents very difficult concepts in an engaging and comprehensible way. One can apply much of the content of the book to one's own thinking, which I found empowering. This book is a must read for anyone trying to make sense of human behaviour and our place in the universe.
You may also like