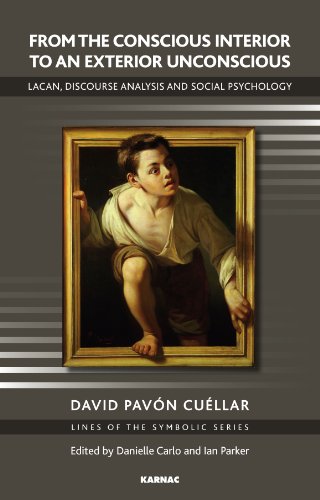 Book Details
Publisher : Routledge
Published : 2010
Cover : Paperback
Pages : 392
Category :
Lacanian Psychoanalysis
Catalogue No : 28872
ISBN 13 : 9781855757943
ISBN 10 : 185575794X
Also by Ian Parker
Also by David Pavon Cuellar
Our Customers Average Rating
Read all reviews (2)





This striking Lacanian contribution to discourse analysis is also a critique of contemporary psychological abstraction, as well as a reassessment of the radical opposition between psychology and psychoanalysis. This original introduction to Lacans work bridges the gap between discourse-analytical debates in social psychology and the social-theoretical extensions of discourse theory. David Pavon Cuellar provides a precise definition and a detailed explanation of key Lacanian concepts, and illustrates how they may be put to work on a concrete discourse, in this case a fragment of an interview obtained by the author from the Mexican underground Popular Revolutionary Forces (EPR).
Throughout the book, Lacanian concepts are compared to their counterparts in psychology. Such a comparison reveals insuperable incompatibilities between the two series of concepts. The author shows that Lacan's psychoanalytical terminology can neither be translated nor assimilated to the terms of current psychology. Among the notions in actual or potential competition with Lacanian concepts, the book deals with those proposed by semiology, Marxism, phenomenology, constructionism, deconstruction, and hermeneutics. Taking a stand on those theoretical positions, each chapter includes detailed discussion of the contribution of classical approaches to language; including Barthes, Bakhtin, Althusser, Politzer, Wittgenstein, Berger and Luckmann, Derrida, and Ricoeur. There is sustained reference in the body of the text to the arguments of Lacan and Lacanians, of Miller, Milner, Soler, and Zizek. At the same time, in the extensive notes accompanying the text, there is a systematic reappraisal and reinterpretation of debates and pieces of research work in social psychology, especially in a discursive and critical domain that has incorporated elements of psychoanalytic theory.
Reviews and Endorsements
'Pavón Cuéllar not only rejuvenates the field of discourse analysis, he completely redefines it, opening it up via the multiple conceptual resources available within Lacanian psychoanalysis. More than a primer to a new form of discourse analysis, this text functions as a handbook for critical qualitative methodology more generally, and as a source book for the analytical potential for combining social psychology and Lacanian thought.'
- Derek Hook, Social Psychology, London School of Economics, UK

'David Pavón Cuéllar's thorough and uncompromising book on Lacan, discourse analysis, and social psychology should open up new paths in discourse analysis for those with a psychoanalytic interest or those who profess such an interest. Discursive psychology is a very smart field, and this is an enormously significant contribution to its continued innovation in the future.'
- Kareen Ror Malone, Professor, University of West Georgia, Member, Après Coup, New York, USA

'David Pavón Cuéllar's From the Conscious Interior to an Exterior Unconscious will be invaluable for anyone interested in the relation between Lacanian psychoanalysis, discourse analysis and contemporary psychology. It gives a scholarly and in-depth interpretation of Lacanian key-concepts, while at the same time reframing Lacan's clinical ideas such that they become instruments for detailed critical text analysis.'
- Stijn Vanheule, Department of Psychoanalysis and Clinical Consulting, Ghent University, Belgium

'I would argue that this book offers an exceptionally systematic and clear presentation of Lacan's work, a thorough engagement from a Lacanian perspective with dominant theories in psychology and the social sciences and a scholarly proposal for an approach to discourse analysis deriving from Lacanian theory. I think that it constitutes a landmark in the field of psychoanalytically inspired discursive approaches and should be read by everyone working or interested in this field.'
- Eugenie Georgaca, Department of Psychology, Aristotle University of Thessaloniki, Greece
About the Author(s)
David Pavón Cuéllar is Professor at the Universidad Michoacana de San Nicolás de Hidalgo, Morelia, Michoacán, Mexico. He has taught philosophy and psychoanalysis at universities in Mexico, Portugal and France. Besides books and papers on political discourse and guerrilla warfare, he has recently published a number of articles on social theory and Lacanian psychoanalysis in Lettre Mensuelle (École de la Cause Freudienne, 2005), Letterina (Association du Champ Freudien, 2006), Dilema (Universidad de Valencia, 2006, 2007), Filosofia (Revista da Faculdade de Letras da Universidade do Porto, 2008) and Araucaria (Revista Iberoamericana de Filosofía, Política y Humanidades, 2009). He also has forthcoming publications in the Annual Review of Critical Psychology and Revista Latinoamericana de Psicología.
More titles by David Pavon Cuellar
Ian Parker is Professor of Psychology in the Discourse Unit at Manchester Metropolitan University, UK. He is widely published, and his books include The Crisis in Modern Social Psychology (1989), Psychoanalytic Culture: Psychoanalytic Discourse in Western Society (1997), Critical Discursive Psychology (2002), Slavoj Zizek: A Critical Introduction (2004) and Psychoanalytic Practice and State Regulation (2008).
Customer Reviews
Our customers have given this title an average rating of 4 out of 5 from 2 review(s), add your own review for this title.
Justice on 09/07/2011 04:15:34





(4 out of 5)
Your book was really informative, thanks!
Sagar on 07/07/2011 01:52:20





(4 out of 5)
Knocekd my socks off with knowledge!
You may also like