From the Conscious Interior to an Exterior Unconscious: Lacan, Discourse Analysis and Social Psychology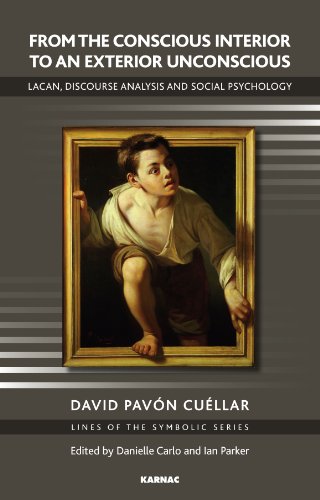 Book Details
Publisher : Routledge
Published : 2010
Cover : Paperback
Pages : 392
Category :
Lacanian Psychoanalysis
Catalogue No : 28872
ISBN 13 : 9781855757943
ISBN 10 : 185575794X
About the Author(s)
David Pavón Cuéllar is Professor at the Universidad Michoacana de San Nicolás de Hidalgo, Morelia, Michoacán, Mexico. He has taught philosophy and psychoanalysis at universities in Mexico, Portugal and France. Besides books and papers on political discourse and guerrilla warfare, he has recently published a number of articles on social theory and Lacanian psychoanalysis in Lettre Mensuelle (École de la Cause Freudienne, 2005), Letterina (Association du Champ Freudien, 2006), Dilema (Universidad de Valencia, 2006, 2007), Filosofia (Revista da Faculdade de Letras da Universidade do Porto, 2008) and Araucaria (Revista Iberoamericana de Filosofía, Política y Humanidades, 2009). He also has forthcoming publications in the Annual Review of Critical Psychology and Revista Latinoamericana de Psicología.
More titles by David Pavon Cuellar
Ian Parker is Professor of Psychology in the Discourse Unit at Manchester Metropolitan University, UK. He is widely published, and his books include The Crisis in Modern Social Psychology (1989), Psychoanalytic Culture: Psychoanalytic Discourse in Western Society (1997), Critical Discursive Psychology (2002), Slavoj Zizek: A Critical Introduction (2004) and Psychoanalytic Practice and State Regulation (2008).