Freud and Jung on Religion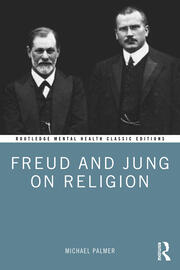 Also by Michael Palmer

In this outstanding book, originally published in 1997, and subsequently translated into many languages, Michael Palmer presents a detailed and comparative study of the two most famous theories of religion in the history of psychology: those of Freud and Jung.
The first part of the book analyses Freud's claim that religion is an obsessional neurosis—a psychological illness fueled by sexual repression—and the second part considers Jung's rejection of Freud's theory and his own assertion that it is the absence of religion, not its presence, which leads to neurosis.
Originally given as a series of lectures at Bristol University, this Classic edition of Freud and Jung on Religion is important reading for general and specialist readers alike, as it assumes no prior knowledge of the theories of Freud or Jung and is an invaluable teaching text.
Reviews and Endorsements
'The complex relationship between Freud and Jung and particularly their eventual disagreement over religion, are delineated in Michael Palmer's valuable study . . .Palmer's analysis sharpens the debate over the contribution to our understanding of Freud and Jung on religion and , if for no other reason, deserves to be read, discussed and debated further.' - Bulletin of The British Association for the Study of Religion

'Palmer focuses on the psychologies of religion put forward by Freud and Jung, and manages two considerable feats. The first is that of marshalling Freud's thought in such a way that its roots in his life, and its continuities as well as discontinuities, are all understandable. The second feat is the greater: that of presenting Jung's thought clearly and coherently . . . Having attempted to introduce Freud and Jung to undergraduate and postgraduate students of the psychology of religion for the past eighteen years, I welcome Michael Palmer's book as a valuable resource for the future, both for clarifying my own thinking and for leading students to a firm grasp of the ideas discussed by these two key figures' - Scottish Journal of Religious Studies

'This book should become required reading or all theologians, especially those concerned with the theory and practice of pastoral care, because it offers a readable and insightful account of two of the most important and influential theories of religion by Freud and Jung. The book is well organized with detailed bibliography and comprehensive and usable index.' - Religion and Theology
About the Author(s)
Michael Palmer is a former Teaching Fellow at McMaster University and Humboldt Fellow at Marburg University, and was for many years the founding Head of the Department of Religion and Philosophy at The Manchester Grammar School. Among his many other books, Routledge have also published a second series of Palmer's Bristol lectures, the best-selling The Question of God (2001), which provides a detailed analysis of the traditional arguments for God's existence. More recently Palmer has published three books on the philosophy of atheism: The Atheist's Creed, The Atheist's Primer, and Atheism for Beginners.
You may also like