Four Novels in Jung's 1925 Seminar: Literary Discussion and Analytical Psychology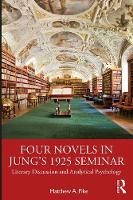 Book Details
Publisher : Routledge
Published : February 2020
Cover : Paperback
Pages : 120
Category :
Jung and Analytical Psychology
Catalogue No : 94976
ISBN 13 : 9780367420666
ISBN 10 : 036742066X
C. G. Jung believed that popular fiction often conveyed unvarnished psychological truths. In this volume, Matthew A. Fike skillfully analyzes the novels under consideration in Jung's 1925 seminar on analytical psychology, corrects Jung's ill-informed perspectives, and sheds light on a neglected area of Jungian literary studies. Jung originally planned to discuss several novels about the anima-Henry Rider Haggard's She, Pierre Benoit's L'Atlantide, and Gustav Meyrink's The Green Face.
At the request of his participants, he dropped Meyrink and included a text about the animus, Marie Hay's The Evil Vineyard. Fike demonstrates that Haggard's She and Benoit's L'Atlantide portray anima possession, the visionary and psychological modes, and traditional versus Jungian approaches to history. Meyrink's smorgasbord of Jungian theory and religion makes The Green Face a fictional counterpart to The Red Book, and both Meyrink and Hay depict states of higher consciousness that transcend the archetypes.
The distinction between archetypal and spiritual possession demonstrates that The Evil Vineyard is a ghost story, and the study concludes with Hay's dozens of allusions, which provide important metacommentary. Four Novels in Jung's 1925 Seminar, the first comprehensive study of all four texts, complements seminal works by Cornelia Brunner and Barbara Hannah, critiques the seminar discussion recorded in William McGuire's edition of Analytical Psychology: Notes of the Seminar Given in 1925 by C. G. Jung, and incorporates Jung's own comments on the four novels in The Collected Works.
Thus, it provides an essential addition to Jungian literary studies and will appeal both to students and practitioners of Jungian analytical psychology and to scholars of British, French, and German literature.
About the Author(s)
Matthew A. Fike, PhD, Professor of English at Winthrop University, teaches courses in the human experience, critical thinking, Shakespeare, and Renaissance literature. His previous studies include The One Mind: C. G. Jung and the Future of Literary Criticism and Anima and Africa: Jungian Essays on Psyche, Land, and Literature.
You may also like