Forgiveness in Intimate Relationships: A Psychoanalytic Perspective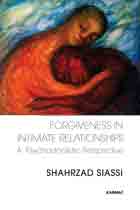 Book Details
Publisher : Routledge
Published : May 2013
Cover : Paperback
Pages : 192
Category :
Psychoanalysis
Category 2 :
Trauma and Violence
Catalogue No : 32506
ISBN 13 : 9781780490625
ISBN 10 : 1780490623
Also by Shahrzad Siassi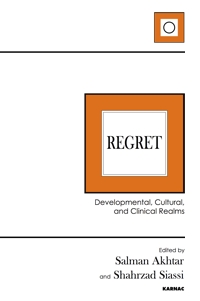 How can one overcome deeply-held resentment so as to resume or establish a bond with a traumatizing person, mindful that the experience of the self is rooted in the very intimate relationships from which such trauma arose? This book centres on the challenge of forgiveness and recovery from trauma in intimate relationships as viewed psychodynamically in the clinical context.
Traumas inflicted by intimates, especially by parents, differ from transgressions and betrayals—however legitimately traumatizing—committed in less psychically-rooted relationships. While some betrayals are in fact not forgivable, what is at issue when parents or other intimates betray is the inevitable yearning for reunion: a wish whose potential fulfillment raises the spectre of re-traumatization and humiliation and is thus fraught with risk.
Dr Siassi focuses on the analytic situation as the rightful arena for true forgiveness; one in which the ongoing process of translating experience into words and creating meaning through narrative—often in the transference—allows a victim's wish (as opposed to his/her will) to re-establish a meaningful bond with the offender, to unfold. Dr Siassi argues that this transformative process, first of letting go of resentment, and second of reestablishing a bond that is not superficial with the intimate other, is precisely what allows individuals to transcend the past without erasing it, freeing themselves to fully engage with their world in the present. This is what is meant simply by forgiveness, a formidable challenge for psychoanalytic work.
Reviews and Endorsements
'Forgiveness has long been a neglected subject in psychoanalysis. At long last Dr Siassi has provided us with a courageous, thoughtful and systematic review of the subject from a psychoanalytic perspective. Her insights into the process of forgiving and withholding forgiveness will be of great value to psychoanalysts and psychotherapists who are just beginning as well as those with years of experience.'
- Glen O. Gabbard, MD, author of Love and Hate in the Analytic Setting

'Deftly weaving insights drawn from clinical psychoanalysis with those provided by philosophy, religion, fiction, cinema and the throbbing ebb and flow of daily life, Shahrzad Siassi deepens our understanding of forgiveness. With eloquence and sensitivity, she elucidates the relationships between forgiveness, trauma, mourning, and acceptance. Her oeuvre is vast and includes references not only to Freud, Rado, Schafer, Stolorow, Lansky, and Fonagy but also to Shakespeare, Dostoevsky, Derrida, Arendt, Kristeva, and even Woody Allen. The result is a tour de force of theoretical rigor, clinical acumen, and humanitarian concern!'
- Salman Akhtar, MD, Training and Supervising Analyst, Psychoanalytic Center of Philadelphia
About the Author(s)
Shahrzad Siassi, PhD, FIPA, is a psychologist-psychoanalyst with a private practice in Sherman Oaks, California. She is a Training and Supervising Analyst at the Newport Psychoanalytic Institute and a Senior Faculty Member at the New Center for Psychoanalysis in Los Angeles. She has published and taught extensively on the topic of forgiveness. She has presented papers and been a panellist in the US and abroad at various meetings of the American Psychoanalytic Association and the International Psychoanalytic Association on topics related to forgiveness. Dr. Siassi is the recipient of Karl Menninger Memorial Award (2003) of the American Psychoanalytic Association and is the past president of the San Fernando Valley Psychological Association in Los Angeles.
You may also like