Five Minutes a Day to an Upgraded Therapy Practice: Transtheoretical Tips to Help You Make the Most of Each Session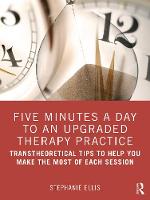 Book Details
Publisher : Routledge
Published : August 2021
Cover : Paperback
Pages : 224
Category :
Individual Psychotherapy
Catalogue No : 95835
ISBN 13 : 9780367636142
ISBN 10 : 9780367636
Five Minutes a Day to an Upgraded Therapy Practice is a compilation of short, useful suggestions based on classic theory, current research, and wisdom gathered over fifteen years of clinical practice, supervision, and graduate teaching in psychology and counseling. Chapters include highly practical upgrades on standard therapy techniques and ideas for continual therapist development (that respect the busy life of the mental health professional!).
The book is made up of ten sections, each with ten short chapters, each readable in under five minutes. It is an indispensable resource for practicing mental health clinicians, including counselors, clinical social workers, psychologists, and other helpers, as well as advanced students in counseling or similar graduate programs.
Reviews and Endorsements
"If you want to continue to advance your skills and confidence as a therapist - but don't want to add yet another 'approach' or 'technique' to your already overstuffed toolkit - this is the book for you. Ellis works on the assumption that you already have the knowledge and resources you need to be an effective therapist, and she provides a treasure trove of useful tips and easy-to-practice exercises to help you strengthen your therapeutic muscles and further refine your therapeutic techniques. There's a reason we call what we do a 'therapy practice' - and although in our profession practice will never make perfect, it will certainly make you better - and Ellis's nuggets of wisdom will certainly help you get there." - Victor Yalom, PhD, founder and CEO of Psychotherapy.net.


"I don't know how she did it, but Stephanie Ellis managed to cram half a graduate program's worth of foundational research on psychotherapy into a book that weighs less than a bag of coffee beans, and by some magic it reads more like an engaging mystery novel than a textbook! This book is everything you could hope for - knowledgeable and practical, challenging in the way that brings out your best, and lighthearted and endlessly entertaining." - Scott Barry Kaufman, PhD, host of The Psychology Podcast, author of Transcend: The New Science of Self-Actualization.


"Stephanie Ellis provides a relational approach to help therapists better themselves. Up-to-date information. Engaging read. Easily incorporates methods to improve your practice regardless of preferred theory or level of experience." - Jeffrey K. Zeig, PhD, director of the Milton H. Erickson Foundation.


"A valuable resource for new and experienced therapists alike, each chapter of Five Minutes a Day to an Upgraded Practice directs you to the foundational elements of effective psychotherapy, next-level nuances of theory and practice, and pragmatic ways to apply these concepts right away. If you want to improve as a therapist, use the advice we give to our clients and make small, consistent, and meaningful changes, and read one short chapter a day of this engaging, informative book." - Joel Minden, PhD, psychologist, author of Show Your Anxiety Who's Boss: A Three-Step CBT Program to Help You Reduce Anxious Thoughts and Worry.


"Dr. Stephanie Ellis's masterfully written book is an excellent guide for therapists in all stages of their careers. In a fun and engaging manner, Dr. Ellis describes the bedrock concepts of the field and then transforms each principle into a practical tip. The wisdom throughout the book will be especially useful to novice therapists seeking powerful ways to enhance patient care." - Kathryn H. Gordon, PhD, clinical psychologist, author of The Suicidal Thoughts Workbook: Cognitive-Behavioral Therapy Skills to Reduce Emotional Pain, Increase Hope, and Prevent Suicide.
About the Author(s)
Stephanie Ellis, PhD, is a licensed psychologist with a doctorate in counseling psychology. For over fifteen years, she has been providing psychotherapy, teaching psychology and counseling, and delivering group and individual supervision.
You may also like